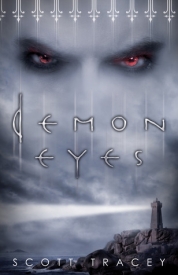 Title: Demon Eyes (Witch Eyes #2)
Author: Scott Tracey
Published: October, 2012 by Flux
Thanks: Flux
Pages: 395
Rating:






Purchase: The Book Depository
Demons don't die without a fight…

After destroying the demon Lucien, Braden—son of Belle Dam's most powerful warlock, Jason Thorpe—doesn't need the power of his witch eyes to see that everything in his life is turning against him: friends, family, and even his visions. When disturbing nightmares of Lucien's return haunt him, Braden discovers that the simmering feud between the city's two witch dynasties is fast approaching its explosive boiling point.

While struggling to come to terms with his attraction to Trey, Catherine Lansing's son who should be his mortal enemy, a diabolical plan starts to unveil before Braden's eyes. Young women are disappearing from Belle Dam, and as he investigates, Braden is forced to explore the dangerous unknown power within himself. But when the truth about his family is revealed, Braden must pay a terrible price.
Final Thoughts:
This book drained me. I wanted to like it. I really, really did. It just didn't click for me. I enjoyed Witch Eyes a great deal, but with this one, it just fell flat. I felt like I was reading one big epilogue for basically the first half of the book. Nothing happened. The characters avoided each other, or if they did interact, it was incredibly stilted. As for the 'plot' of the book, it seemed like it wasn't going anywhere. Read a hundred pages of characters whining, throw in few lines about the creepy voice in the main character's head and repeat. How I managed to finish this one is beyond me.

The romance is very hot and cold. I'm not quite sure what to make of it. It didn't feel like the characters knew what they were doing either. One minute they're avoiding each other, the next there is full on possessiveness. Yes, this is what we should be teaching teens about relationships. I have to shake my head at them. Where did all of the sane characters go? About the only one worth reading was Drew, and his flirty, sarcasm-filled banter. But still, even he didn't make a lot of sense. There's this chemistry between him and Braden, but it hasn't evolved. Perhaps if I decided to torture myself with the third book I might finally get to find out.
If you're hoping for twists, you're going to be disappointed. Every time there's a little bit of mystery, it pans out exactly according to whatever Braden thinks it may be. Sure, smart characters that can deduce things are a plus. But when things are so obvious, it deducts any bonus points that main character may have accumulated. I want to be shocked. I want to drop the book in awe. Basically, I just want to be interested. With Demon Eyes, I wasn't.