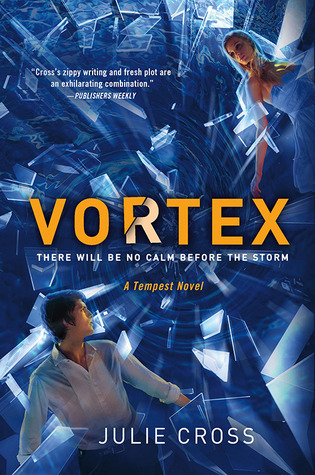 Title: Vortex (Tempest #2)
Author: Julie Cross
Published: January, 2013 by St. Martin's Griffin
Pages: 358
Rating:






Purchase: The Book Depository
Jackson Meyer has thrown himself into his role as an agent for Tempest, the shadowy division of the CIA that handles all time-travel-related threats. Despite his heartbreak at losing the love of his life, Jackson has proved himself to be an excellent agent. However, after an accidental run in with Holly—the girl he altered history to save—Jackson is once again reminded of what he's lost. And when Eyewall, an opposing division of the CIA, emerges, Jackson and his fellow agents not only find themselves under attack, but Jackson begins to discover that the world around him has changed and someone knows about his erased relationship with Holly, putting both their lives at risk all over again.
Final Thoughts:
This is what books should be like. I never felt bored, I never wanted to put it down, the characters didn't frustrate me. Please, people, write more books like this. Vortex may be markedly different from its predecessor, but it works. There's less of a focus on the romance—it's not gone, but it comes in second. So much happens in this novel that thinking back, it's hard to imagine it all fit into just over 350 pages. You may find yourself missing some of the old characters, but with plenty of new ones thrown at you, you won't have time to notice. Plus, if you're anything like me, you will soon lose yourself in the intricately plotted mess that is time travel.

Coming into this instalment I think I may have forgotten almost all of the time travel terminology, and basically, everything to do with Tempest, the organisation. Depending on how you look at things, you might like that this one doesn't repeat the last book back to you verbatim, you just have to pick things up as you go along. With the new direction that it took, it almost felt like I'd stepped into an episode of Nikita with Jackson taking on the role of a young recruit, trying to prove his worth, meanwhile caught amongst the head games, trying to figure out what the higher ups were hoping to achieve by pulling his strings.
Introduced three or four new characters early on, I really enjoyed the time spent developing them, developing Jackson along with them, they easily became as recognisable to me as either his best friend, Adam or epic love interest, Holly. With the characters in their late teens/early twenties, their personalities do seem a little mature for their age, but it's easy to overlook and definitely better than being stuck with characters falling on the other end of the spectrum. I couldn't help but loving one of the newbies, Stewart. She fills out the bitch role perfectly. Incredibly smart an a little bit crazy, Jackson is constantly at odds with her, and it's great.
There may not be a whole lot of time travel in the beginning of the book, but that's understandable, and actually shows that Jackson is learning the dangers of messing with time. Or maybe it's just written like that so we can get to know the new characters. Either way, you're stuck in one place for a while. Once the characters get back to New York, the story feels more like Tempest again. And I think, that's where I finally got sucked into ploughing through the pages. There was a lot of 'are they, aren't they' questioning that went on in my head, either to do with the villains, or the love interests. I wouldn't say the twists blew me away, but they certainly kept me reading. In terms of the trilogy, it fills out the middle section well and leaves you wanting that third book now!
Recommended to:
Fans of time travel, angsty romance and government conspiracies. The time travel concepts are one of the major highlights for me. It's well thought out and just a tad bit confusing if you're reading too quickly. Slow down and take it in—you'll enjoy it more.