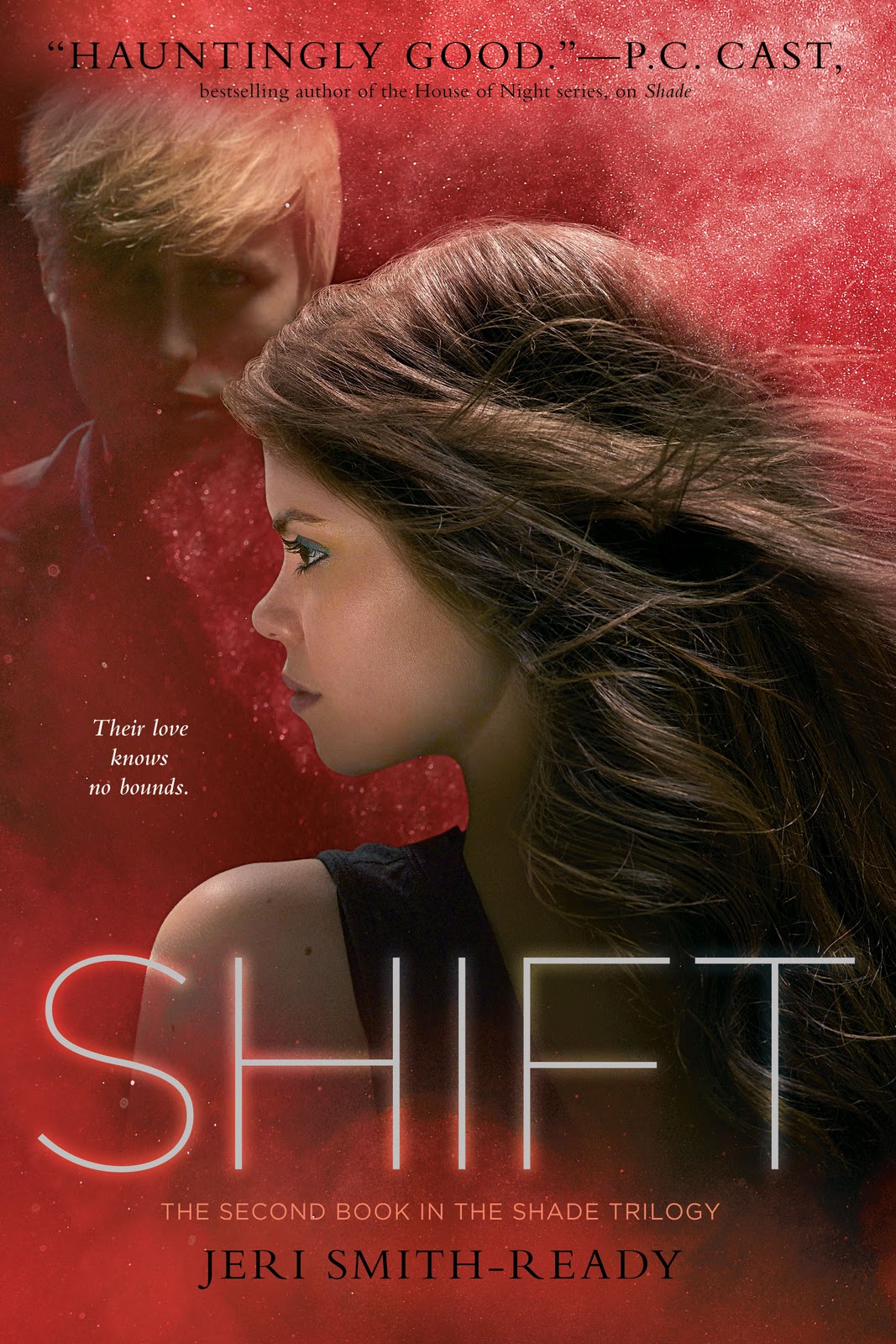 Title: Shift (Shade #2)
Author: Jeri Smith-Ready
Published: April, 2011 by Simon Pulse
Pages: 367
Rating:






Purchase: The Book Depository
Aura's life is anything but easy. Her boyfriend, Logan, died, and his slides between ghost and shade have left her reeling. Aura knows he needs her now more than ever. She loves Logan, but she can't deny her connection with the totally supportive, totally gorgeous Zachary. And she's not sure that she wants to.

Logan and Zachary will fight to be the one at her side, but Aura needs them both to uncover the mystery of her past—the mystery of the Shift. She's not the only one seeking answers, though, and danger grows as she discovers new truths.

Who can Aura trust with her secrets? And to whom will she give her heart?
Final Thoughts:
This took me AGES to get through. It just wasn't clicking for me. I kept finding myself putting it down mid chapter, leaving it a few days, then telling myself I had to get back into it. It was just so different from the first book, and not in a positive way. With great ideas, this paranormal had heaps to offer, but unfortunately most of the plot this time around gave way for a mess of relationship drama. And with Aura playing musical beds, I really couldn't connect with her. For me, this love triangle (and at times, square), just didn't work.

Angst. That's about all I can say. Usually I love it, but in Shift, I just couldn't get my head around it. There's so much back and forth. Bitchy high school girls, backstabbing, cheating, break ups and hook ups. Yeah, that wasn't for me. And as for the sex…well, I'd prefer not to know some of the things I do now. Let alone the fact that it leads to plot holes in her ghost mythology, which, thinking back now, were more fun to uncover than the actual few bits of info we got on the plot.
That being said, the Shift, and it's relation to the advent of ghost-seers, does get a look in for a few pages in between all of the making out and Zachary's "aye's", but it really could have been more of a focus. We've got these secret agents who've been pushed to the background, a worldwide paranormal phenomena full of secrets, and even sick parents, yet all they can seem to think about is kissing. I like romance, but that doesn't mean the plot has to be sacrificed in service of it.
Hopefully things will turn around once things start wrapping up in the third book. I can still see potential in it, and I did enjoy the first, so perhaps I may just have to pretend this one never happened.
Recommended to:
Those interested in high school drama and love triangles. If that's you, good luck.