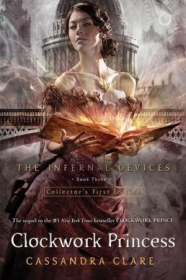 Title: Clockwork Princess (The Infernal Devices #3)
Author: Cassandra Clare
Published: March, 2013 by Margaret K. McElderry
Pages: 570
Rating:






Purchase: The Book Depository
A net of shadows begins to tighten around the Shadowhunters of the London Institute. Mortmain plans to use his Infernal Devices, an army of pitiless automatons, to destroy the Shadowhunters. He needs only one last item to complete his plan: he needs Tessa Gray.

Charlotte Branwell, head of the London Institute, is desperate to find Mortmain before he strikes. But when Mortmain abducts Tessa, the boys who lay equal claim to her heart, Jem and Will, will do anything to save her. For though Tessa and Jem are now engaged, Will is as much in love with her as ever.

As those who love Tessa rally to rescue her from Mortmain's clutches, Tessa realizes that the only person who can save her is herself. But can a single girl, even one who can command the power of angels, face down an entire army?

Danger and betrayal, secrets and enchantment, and the tangled threads of love and loss intertwine as the Shadowhunters are pushed to the very brink of destruction in the breathtaking conclusion to the Infernal Devices trilogy.
Final Thoughts:
This was such a long book, much longer than it needed to be. A much tighter story would have been easier to get through. As it stood, I found myself constantly putting this one down to take a breather. I think I may have even ended up spending two months on this tome. But in all fairness, it was actually a step up on Clockwork Prince story-wise with the plot finally getting back on track. Still, if I'd had my way I would have condensed it down to a solid three hundred or so pages. I mean, who really needs a hundred pages of wrap-up.

Like the books before it, this one creates tension through its multiple points of views. Whenever someone falls into peril, we go and jump into someone else's head. It's a tried and true method, but do it enough times and I'm going to start using those gaps in-between paragraphs to take a break. There is a good kind of tension throughout though. The Consul and his scheming plays to the background, bourgeoning both a sense of frustration and humour in the lengths to which this man would go belittle Charlotte and terminate her position of authority without getting his hands dirty.
Love triangles seem to be on their way out but this one is a little different in that both guys aren't at each other's throats. Will and Jem, Parabatai, brothers in all the ways that count, their relationship comes across more genuine than either of their ties to Tessa. For me, I didn't feel their attraction to her or hers to them. It really didn't grab me and sweep me up. Sure, I enjoyed my time with them, but I would have classified them as just really close friends.
The Magister is back! I can't remember if he made an appearance in the second book, but to be honest, nothing was really that memorable about it for me supernatural-plot wise. If two and three had been one book, well, that would be one heck of a long book and I'd probably still be putting it off. That aside, the Magister, he's just as twisted as last time we saw him, but now he's finally pulling his plan together. I love how Clare writes her evil guys. They're broken by the past, led to think they're in the right and that they're actions are completely justified.
But as for how she brought everything together in the end, it felt like just a bit too much. I liked it, but could've gone for something not as crowd pleasing. Read it for yourself and see what you think. If not for the outcome of the love triangle, then for Henry and Magnus, their scenes brought fun to the book, well Magnus brings fun to everything, but that's beside the point. Give it a go, on a whole, I enjoyed my (long) time spent with Clockwork Princess. And just think, only 570 pages to go.
Recommended to:
Fans of love triangles, plus if you're into urban fantasy, Cassandra Clare's series' have pretty much every supernatural create you can think of.