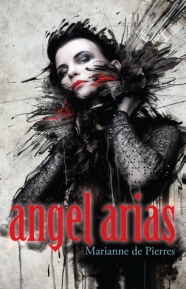 Title: Angel Arias (Night Creatures #2)
Author: Marianne de Pierres
Published: October, 2011 by Random House
Pages: 264
Rating:






Purchase: Booktopia
Retra – now called Naif – has escaped from Ixion, the island of ever-night. She doesn't know if her friends on the island survived the battle between the Ripers and the rebels. But she does know that she must return home, behind the sealed walls of Grave, to find out why the Ripers have been seen there talking to the councillors. What links the two worlds?

First she must convince Ruzalia to help her. The fierce pirate captain saves those who face terrible fates on Ixion, but that doesn't guarantee their gratitude. Instead, she faces a revolt – and Naif is caught in the middle.

Naif will need all her courage to survive. For Lenoir, who wants to keep her safe, for her friends Suki and Rollo, if they live, for Markes, who has secrets of his own, and for the new friends she will make on this journey.

The fate of worlds depends on it.
Final Thoughts:
Fast paced and full of suspenseful situations, things never seem to let up for Naif. But while it may have had that in its favour, it suffered from the second book syndrome in a way. It still held up quite well as it kept me actively reading, but it felt like there was a spark lacking. Burn Bright introduced us to Ixion, a night time world full of monsters and mystery, but here, we're sent back to Naif's hometown on reconnaissance. The majority of the book is spent on the hunt for information whereas it could have been used for something just a little more exciting. But with the third book shaping up to be an Ixion showdown, I'm holding out hope.

Don't get me wrong, I was never bored; in fact, I can't really remember a point where the story allowed for a lull. Getting to know Ruzalia, a pirate woman hell bound on undoing the damage of Ixion, and her unruly camp was a great introduction to the book. Crowded with politics and an uprising of dissent, things quickly get heated, sending Naif into the thick of it all again. So when Naif got dropped back into her iron-fist of a hometown, I hoped it wouldn't take too long. But unfortunately, rather than getting in and getting out, it became the book. Basically all of the character interaction from Burn Bright was left behind, while we were stuck there with Naif as she snuck about, meeting some new kids.
Set in the town of Grave, we really get a feel for the control that is experienced by its inhabitants. The main threat comes not from the Night Creatures, nor the Ripers who run Ixion, but from the Wardens, a group of men, 'guarding' the city she grew up in. The fear of being captured and tortured for information does keep the suspense up, but when this ploy is used constantly, it leaves a want for more. Sure, it does redeem itself in the end with some cool revelations, but I found that they could have happened earlier in the piece, perhaps giving us the chance to head back to Ruzalia and find out what had gone down while Naif was away.
Recommended to:
Those with a copy of Shine Light on hand already. You'll want to get straight into it after you're done with this.