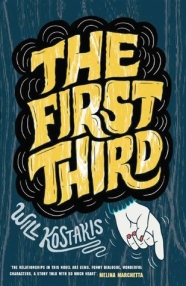 Title: The First Third
Author: Will Kostakis
Published: July, 2013 by Penguin, AU
Pages: 248
Rating:






Purchase: Dymocks // Amazon Kindle // Kobo
Life is made up of three parts: in the first third, you're embarrassed by your family; in the second, you make a family of your own; and in the end, you just embarrass the family you've made.

That's how Billy's grandmother explains it, anyway. She's given him her bucket list (cue embarrassment), and now, it's his job to glue their family back together.

No pressure or anything.

Fixing his family's not going to be easy and Billy's not ready for change. But as he soon discovers, the first third has to end some time. And then what?

It's a Greek tragedy waiting to happen.
Final Thoughts:
It's hard to believe how good this was. After Felicity hyping it at the Brisbane PTA event earlier in the year, I decided I'd probably keep an eye out for it. But with three or four months to wait for the release, and adding in my goldfish memory, it slipped by me until a random trip into a Dymocks store on Election Day. I'm so glad I spotted it, finally finding something that was able to reignite my love of reading. Honestly, this past year, I haven't been able to say I was truly hooked on anything I've picked up, well, until now. I've enjoyed some of them, but The First Third was just plain freaking awesome. And yes, I'm sure my roommates have heard me use those exact words these past few days. If I could have skipped my cousin's wedding yesterday to finish this book, I would have.

These characters are just so real. You forget you're reading a book. Becoming so immersed in Bill's life, every person feels important in their own way. They're not just there to fill a character quotient. I'm left staring at the ceiling here, my eyes drifting out the window as I try to think of any one character I preferred over the other, but it's hard, really hard. There was never a moment where I felt bored. Every interaction drew out differing emotions from me. There were moments where I'd burst out laughing and get weird looks from people, but hey, I didn't care.
I got so much enjoyment out of this book. It had romance, adventure, family drama, brother drama, or more generally, life drama. And it did it all with an underlying sense of humour to it. But it also knew where to bring out the touching moments. I finished this book with tears in my eyes, happy tears, tears that said 'why can't there be more?' yet also, 'it's complete the way it is.' There's a bucket list, a boy, stolen property, shenanigans and plenty of lgbt-friendliness about it. I don't really need to say much more. If you want a book that's going to leave you buzzing, get onto this now. I think the hardest part for me will be figuring out which book to pick up next.
Recommendation:
If you're looking for an exciting new contemporary, and an Australian one at that, this is the book for you.