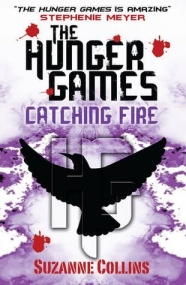 Title: Catching Fire (The Hunger Games #2)
Author: Suzanne Collins
Published: September, 2009 by Scholastic
Pages: 472
Rating:






Purchase: The Book Depository
After winning the brutal Hunger Games, Katniss and Peeta return to their district, hoping for a peaceful future. But their victory has caused rebellion to break out … and the Capitol has decided that someone must pay. As Katniss and Peeta are forced to visit the districts on the Capitol's Victory Tour, the stakes are higher than ever. Unless they can convince the world that they are still lost in their love for each other, the consequences will be horrifying.
Final Thoughts:
Yes, I'm way behind the times on these books, I know. The impending release of the second movie finally got me moving and back into this series. Having just finished it an hour ago, I can't believe I waited so long. I've already grabbed out Mockingjay so I can continue straight into the finale. This book threw me upside down. I thought we'd be left plodding along through the second book, basically bridging the gap in the trilogy, but I was completely wrong. Personally, I think loved this one more than the first.

No longer is Katniss the scared girl, fighting to survive, instead, she's become someone greater than herself, fighting to protect those she cares about. Separated into three parts again, it's hard to say that one was better than the others. Each showed a side of Katniss, of those around her, and how the Capitol exerted its power to manipulate the people it wished to control. The Us versus Them mentality has grown stronger this time around, though. The Districts, marred by famine, have such a desolate feel to them that it's easy to get along with the propaganda that the Capital is wishing to quell.
What I liked this time around was the beginning of change in even the peoples' attitudes within the Capitol. The citizens. It made them seem, in a way, less self-absorbed. Of course, I don't think it came across overnight, these people had distinct triggers worked upon them to bring about such a development. Much of that comes down to Katniss and Peeta. I like them together, they have such sweet moments, and I feel like we get far more progress in their relationship than the Gale side of the triangle. It really is a pained love triangle. It doesn't seem like any of them are destined to win.
Diving into the action, it's easy to see that this will make a fantastic leap onto the big screen. There are plenty of explosive moments, drama, and excellent twists. The way things play out, it really makes you care about the characters futures, and then despair as you realise how things are going end up for them. This is definitely one to keep you up throughout the night.
Recommended to:
Fans of the dystopian genre, and well, anyone like me that hasn't already gotten around to this excellent series.