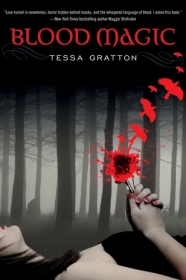 Title: Blood Magic (The Blood Journals #1)
Author: Tessa Gratton
Published: May, 2011 by Random House
Pages: 405
Rating:






Purchase: The Book Depository
It starts off simply.

Draw a circle… place a dead leaf in the center… sprinkle some salt… recite a little Latin… add a drop of blood…

Maybe that last part isn't exactly simple. Yet somehow it feels right to Silla Kennicott. And nothing in her life has felt remotely right since her parents' horrific deaths. She's willing to do anything to uncover the truth about her family—even try a few spells from the mysterious book that arrived on her doorstep … and spill some blood.

The book isn't the only recent arrival in Silla's life. There's Nick Pardee, the new guy next door who may have seen Silla casting a spell. She's not sure what he saw and is afraid to find out. But as they spend more time together, Silla realizes this may not be Nick's first encounter with Blood Magic. Brought together by a combination of fate and chemistry, Silla and Nick can't deny their attraction. And they can't ignore the dark presence lurking nearby—waiting to reclaim the book and all its power.
Final Thoughts:
There's just something about witches, magic, it's just so much fun to read. I mean, who hasn't grown up imagining they had their own powers, flinging their hands about, casting spells. It's fun. Blood Magic throws us into a world full of secrets, yet does it in a way that doesn't try and choke you with information up front. It allows you to grow with the main character, Silla, as she discovers the magic an actually care about the people in her life. Yes, it's another 'dead parents' book, but their deaths play a strong part in building Silla, rather than it done just to let her roam free for the span of the book.

Flipping POVs throughout the story, we see inside both Silla, and her love interest, Nick's, heads. I'm not usually a fan of shifting perspectives, but it does Nick more depth, letting us see into his family life, and the backstory that intertwines his life with Silla's. It was pulled off well most of the time, though there were a couple of instances where I found myself flipping back to see which character's head we were in because I had lost track.
Interestingly, there is a third perspective occasionally woven in through short, standalone chapters. Written as diary entries, though still full of plenty of dialogue, they show us the life of a woman introduced to magic a hundred years ago. Serving as flashbacks, these sections weren't my favourite. They pulled you out of the story. That's not to say they weren't useful. They helped quite a bit with characterisation, and I did later come to appreciate them. It's just that I would have preferred that moment to have occurred sooner.
While this book does have its action, it never really felt stooped in it. It balances it amidst a romance between the two neighbours, one full of kissing and the word 'babe' being used ad nauseam. I felt their connection, and believed it, I just didn't enjoy that aspect of the book. It's weird in a way. I liked both of our main characters, I just didn't find myself longing for the kissing scenes or any of their emotional scenes. I was much more interested in the magic.
Blood Magic shocked me more than once. Its twists came out of nowhere for me. I actually gasped, saying to myself, 'No, that's not happening.' I love it when that happens. Closing this book, I felt satisfied even if everything didn't turn out the way I had wanted it. This is definitely a book I don't regret picking up.
Recommended to:
Anybody after a magic fix. Great characters with motivations you can believe in.