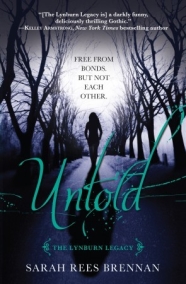 Title: Untold (The Lynburn Legacy #2)
Author: Sarah Rees Brennan
Published: September, 2013 by Simon & Schuster
Pages: 370
Rating:






Purchase: The Book Depository
It's time to choose sides… On the surface, Sorry-in-the-Vale is a sleepy English town. But Kami Glass knows the truth. Sorry-in-the-Vale is full of magic. In the old days, the Lynburn family ruled with fear, terrifying the people into submission in order to kill for blood and power. Now the Lynburns are back, and Rob Lynburn is gathering sorcerers so that the town can return to the old ways.

But Rob and his followers aren't the only sorcerers in town. A decision must be made: pay the blood sacrifice, or fight. For Kami, this means more than just choosing between good and evil. With her link to Jared Lynburn severed, she's now free to love anyone she chooses. But who should that be?
Final Thoughts:
Initially put off by this sequel after not quite warming to Unspoken in the way I did with The Demon's Lexicon, I let this book sit on my bedside table for a few months. Falling into a bit of a reading slump in the process, I tried to fill it with ten volumes of the Nana manga. (I recommended that series, by the way—lots of angst.) Getting back on topic, it was as if something clicked this time. I picked up Untold and I found myself loving Kami. She's smart and uses it to get on peoples' nerves in all the right ways. Rather than shoving a bunch of snarky characters at us, we still get the quips, yet see that they actually have heart.

Spending my day slumped over a small 2-seater couch in the middle of an Australian summer, drowning in the humidity, shifting about, desperately trying to find a comfortable position to prop the hardcover up in, I found it extremely unfair that Kami and her bunch of friends got to spend their time trudging through the snowy winter blanketing their small town, Sorry-in-the-Vale. It kept me reading though, but there may be a mountain of ice block wrappers, and even an empty sundae glass, trailed through my house now.
Like I said earlier, the characters really worked for me this time. Kami's parents became more involved as the story progressed, giving them more depth. There is a love triangle, so if you hate them, you have to make up your own mind whether you want to get involved, but personally I found Kami's feelings quite distinct on the matter, rather than flip-flopping about like most of the other heroines that find themselves caught amongst the eyes of many sexy boys. Still, there is one scene that made me feel like I'd just tuned into an ep of The Bold and the Beautiful. But I do love that soap, and all things angst, so it just made things extra fun for me.
If you don't like angst, then you may have problems. Personally, I think without it, where would the payoff be? That moment when things fall into place, it's worth waiting for—even if you feel like ripping the pages out along the way. Focussed heavily on the Lynburn family of sorcerers, and which of them will come out on top, it's easy to picture Rob and Lillian Lynburn slipping into an ep of B&B, each them a warring fashion house trying to prove their worth, except with death threats. All they need is a throwdown in a pond or a water-feature, in fact, I think Sarah should get on that for the finale—full with slapping and dramatic pauses.
Okay, I may have gone a bit off topic, but I blame the heat, it's getting to me. I should probably wrap this up before I end up writing my own crossover fanfic between the two series. In a last ditch effort to impress the point that this actually is a good book, and not a delusion of my heat-deranged imagination, I'll throw out there that we get quite a bit of romance in true 'second book' style. Smooching, witty retorts, and a monologue from Rusty—if that's not enough incentive to pick it up, I don't know what is.
Recommended to:
Those who enjoy angst, family fueds (that aren't yours), and magic.