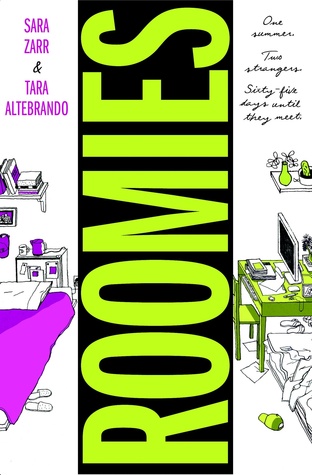 Title: Roomies
Author: Sara Zarr & Tara Altebrando
Published: December, 2013 by Little, Brown Books
Thanks: Little, Brown Books via NetGalley
Pages: 279
Rating:






Purchase: The Book Depository
It's time to meet your new roomie.

When East Coast native Elizabeth receives her freshman-year roommate assignment, she shoots off an e-mail to coordinate the basics: television, microwave, mini-fridge. That first note to San Franciscan Lauren sparks a series of e-mails that alters the landscape of each girl's summer — and raises questions about how two girls who are so different will ever share a dorm room.

As the countdown to college begins, life at home becomes increasingly complex. With family relationships and childhood friendships strained by change, it suddenly seems that the only people Elizabeth and Lauren can rely on are the complicated new boys in their lives . . . and each other. Even though they've never met.

National Book Award finalist Sara Zarr and acclaimed author Tara Altebrando join forces for a novel about growing up, leaving home, and getting that one fateful e-mail that assigns your college roommate.
Final Thoughts:
Roomies was fun—something I'd devoured within a day, but it didn't hit me in the way a certain other new contemporary did. I wasn't bored, but it's not going to go down as one of my favourites. Switching back and forth each chapter between the two girls, we quickly get to know their family situations and their blossoming love lives. The romances didn't do a lot for me, I was more interested in the drama going on between the girls and their back and forth passive-to-actually-aggressive emails throughout the book.

At one point while reading this, I realised I'd taken sides. One of the girls was grating on me with her mental warfare tactics and ability to jump to conclusions while the other girl was simply trying to make the best of their situation and do what she thought was right. Of course, that didn't stop me enjoying both girls' perspectives. They each brought in a vastly different family background, one with a single parent and no siblings, and the other with a house packed full of kids under the age of six. I really liked jumping between these two differing worlds and seeing how it impacted upon their lives.
It was a little strange that both girls suddenly found themselves with summer boyfriends that were exactly what they'd wanted. I guess we couldn't have one girl having all the romance time of the book to herself. The guys were nice enough—definitely nothing like the snark-riddled douches of some of the books I've been reading lately—but I didn't particularly care whether or not each couple would stay together come time for them to head off to college. Like I said, the romance didn't feel like the central focus. It was more there just to be there. It was a book about friendship.
And in saying that, I liked how the girls each had their own friends, the book exploring the depths of those friendships, and the possibility of them coming to their natural ends. Each of them seemed to be growing apart from their respective friend groups with the threat of college starting looming upon them. Knowing what that's like, when friends just don't seem to feel like the friends they used to be, I found this possibly one of the realest facets of the book. Exploring new relationships while trying to hang onto or recapture old ones became an ongoing pursuit in each of the girls' lives.
With all of the angst going on between the girls, it was enough to keep my eyes glued to the page, hoping they'd get their act together and sort it all out. Dual point of views aren't my favourite, especially these where you have to wait a whole chapter to see what the other character's doing again, but Roomies pulled it off somehow.
Recommendation:
Good for a quick read. Online friendships, prepping for college, summer boyfriends and family drama—it's all here.