Stacking The Shelves is a meme hosted by Tynga's Reviews all about sharing the books you are adding to your shelves, may it be physical or virtual. This means you can include books you buy in physical store or online, books you borrow from friends or the library, review books, gifts and of course ebooks!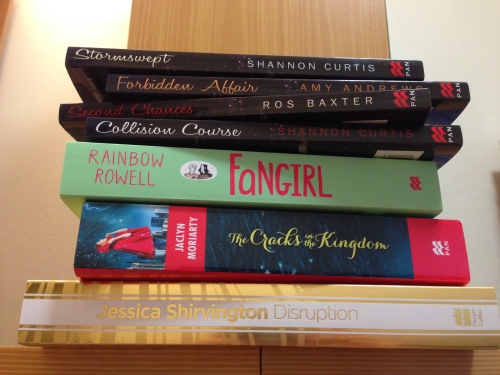 Titles link back to Goodreads
• Disruption by Jessica Shirvington (purchased)
• The Cracks In The Kingdom by Jaclyn Moriarty (thanks to Pan Macmillan, AU)
• Fangirl by Rainbow Rowell (purchased)
• Collision Course by Shannon Curtis (purchased)
• Second Chances by Ros Baxter (purchased)
• Forbidden Affair by Amy Andrews (purchased)
• Stormswept by Shannon Curtis (purchased)
It's been freaking ages since I've done one of these. About a year. I've bought books since then, but these are just the ones I've picked up in the last couple of weeks. Thanks to Pan Macmillan for surprisingly me with a copy of Jaclyn Moriarty's new book. I had barely finished reading A Corner Of White when this one rocked up in my PO Box, taunting me, trying to jump ahead in my tbr list. The rest are all from my regular trips to my local Big W's book section. They're probably the only one of the three Australia discount department stores chains I've found that still stocks a semi-decent range of YA. At least where I live.
I'm hearing good things about Disruption, so I'd like to check it out before it becomes another one of the unread books collecting dust on my shelves. Fangirl, I haven't heard much about, but I did a quick Goodreads check in-store on my phone and all looked good so I added it to my shopping pile. And yes, you are seeing right, I did buy all four of the Bold And The Beautiful tv-show tie-in romance novels. $6 each, and based on my favourite scheming, angst-riddled soap, there really was no other choice.
That's it for this time. Hopefully, it isn't another year before my next book haul.
So, what books have you gotten lately? Let me know in the comments.