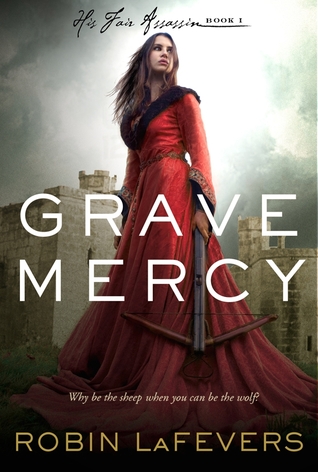 Title: Grave Mercy (His Fair Assassin #1)
Author: Robin LaFevers
Published: April, 2012 by Houghton Mifflin Harcourt
Thanks: Houghton Mifflin via NetGalley
Pages: 549
Rating:






Purchase: The Book Depository
Why be the sheep, when you can be the wolf?

Seventeen-year-old Ismae escapes from the brutality of an arranged marriage into the sanctuary of the convent of St. Mortain, where the sisters still serve the gods of old. Here she learns that the god of Death Himself has blessed her with dangerous gifts—and a violent destiny. If she chooses to stay at the convent, she will be trained as an assassin and serve as a handmaiden to Death. To claim her new life, she must destroy the lives of others.

Ismae's most important assignment takes her straight into the high court of Brittany—where she finds herself woefully under prepared—not only for the deadly games of intrigue and treason, but for the impossible choices she must make. For how can she deliver Death's vengeance upon a target who, against her will, has stolen her heart?
Final Thoughts:
I haven't had much experience with historical fiction. I look at them in the stores—mostly at their cool covers—and read the sometimes intriguing blurbs, but I always feel uneasy wondering how much fun the writers have had playing around with the true events. Enter Brett . . . who is never without some random YA novel he wants me read and review. And so he came to me and asked—who am I kidding? He doesn't ask, he just says 'I sent a book to your kindle,' smiles, and then runs away before I can argue.

And that is how I came to read Grave Mercy by Robin LaFevers: a historical-fiction novel with a magic twist that tells the story of the political intrigue surrounding the Duchy of Brittany, and their struggle against France during the 1480s to keep their independence. The story begins with and follows the life of Ismae Rienne, a sired daughter of Death himself, who is sold into marriage to a pig farmer before escaping and being taken to the convent of St. Mortain (i.e. church of Papa dearest). There she is trained to be an assassin and is later sent to the court of Anne, Duchess of Brittany, to help uncover possible traitors to the duchy.
Ismae interested me for the first few pages, until she got to the convent, and from then on she took a long time getting my interest back. Firstly we are introduced to the convent, and I myself was led to believe we would be spending some time of the book there. Instead, after a very short week there, we skip four years into the future (which kind of annoyed me a little, because a lot would've happened there that could've helped me get to know Ismae more). After this time warp, we are left with a still immature girl who now has a blood lust, and whose most outward trait is her disgust and despising of men, which, although warranted given her history, got tiresome after a while. She was, however, likeable, intelligent and witty, and her mannerisms did improve over time, which is a big plus in my opinion.
To talk about the writing itself, the attempt at period-appropriate slang either bored me or embarrassed me at times; at one point Ismae referred to her own breasts as 'orbs of flesh'. Also she couldn't go five pages of the book without her catchphrase: 'And it is all I can do to keep myself from: e.g. reaching for my blade . . . killing him on the spot . . . throwing myself into his warm, strong arms' etc. I would also question how a convent filled with assassin nuns could ever decide to send an under experienced novitiate to perform one of the most important missions in the duchy, while all the more qualified assassins stayed home and knitted pretty little court gowns for all I knew.
Once Ismae is sent to the Breton court with Duval, however, I was very pleased to at last have some political intrigue thrown my way. I think this was the best part about the book. The constant second guessing where peoples' loyalties lay, the spying and the eavesdropping, and the rare sightings of the mysterious and helpful Sybella—this is what kept my attention.
Luckily for Ismae, her position as an assassin and poisons expert did manage to keep her relevant and somewhat important to the plot. However the chemistry between Ismae and Duval, which took over half of the plot, I considered sort of a distraction—but I wouldn't describe it as cliché, forced, or out of place. It was alright, but it just wasn't what made the novel for me. Alternatively, I did like how the theological/magical aspects of the convent and Saint Mortain was woven into and became part of the intrigue surrounding the Duchy's future. Hence I initially gave it two stars before the Breton court espionage took over and made it interesting, bumping Grave Mercy up to a third star.
Recommended to:
Recommended to people who like historical fiction and espionage, and who don't mind a bit of magic and sappy romance thrown in for good measure.