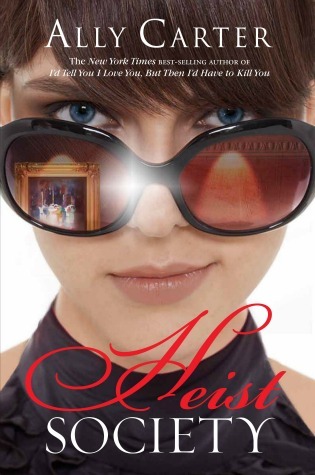 Title: Heist Society (Heist Society #1)
Author: Ally Carter
Published: February, 2010, by Disney Hyperion
Pages: 287
Rating:






Purchase: The Book Depository
When Katarina Bishop was three, her parents took her on a trip to the Louvre…to case it. For her seventh birthday, Katarina and her Uncle Eddie traveled to Austria…to steal the crown jewels. When Kat turned fifteen, she planned a con of her own—scamming her way into the best boarding school in the country, determined to leave the family business behind. Unfortunately, leaving "the life" for a normal life proves harder than she'd expected.

Soon, Kat's friend and former co-conspirator, Hale, appears out of nowhere to bring Kat back into the world she tried so hard to escape. But he has a good reason: a powerful mobster has been robbed of his priceless art collection and wants to retrieve it. Only a master thief could have pulled this job, and Kat's father isn't just on the suspect list, he is the list. Caught between Interpol and a far more deadly enemy, Kat's dad needs her help.

For Kat, there is only one solution: track down the paintings and steal them back. So what if it's a spectacularly impossible job? She's got two weeks, a teenage crew, and hopefully just enough talent to pull off the biggest heist in her family's history–and, with any luck, steal her life back along the way.
Final Thoughts:
Somehow I knew that I would enjoy this book even before I had even picked it up. This hard-cover copy of Ally Carter's Heist Society had been sitting on Brett's shelf for quite some time, untouched. And every time I walked by, I saw it in the corner of my eye and said to myself: I really want to read that, some time. And, oh boy, was I satisfied when I did, at last.

This caper-esque tale of burglary, blackmail and, most of all, family, ensues when Katarina Bishop is forced to re-enter the family business (of thievery), and embark on a globe-trotting race against time to recover five priceless artworks, belonging to a villain art collector who accuses her father of stealing them. Along the way she enlists the help of her friend, billionaire W. W. Hale the Fifth, Her Uncle Eddie, and her often skimpily-dressed cousin, Gabrielle, as she discovers the secrets behind the historic paintings, and the elusive Visily Romani, who seems to be behind it all (don't worry, that's not a spoiler).
Katarina—often dubbed Kat, or Kitty Kat, by her relations—is nothing short of intriguing, and has a certain class about her that reminds me of Audrey Hepburn's 'Nicole' from How to Steal a Million; there's always something greatly riveting about the rich stealing from the rich. In fact, the entire cast of characters seem to exude that high society class by which, I assume, the title earns its pun.
From the U.S., to Italy, France, Poland, England and all the way back again, Heist Society is filled with twists and turns, and thrilling scenes that kept my eyes glued to the page for the few short days it took me to read it. And, gratefully, I was kept guessing till the very end as to how things would turn out for the teenage criminal wonder team. I must also admire Ally Carter for the way she is able to describe the scenery, and the artworks in question; I really felt like I was either strolling down the snowy streets, wandering through the elaborately styled buildings with the characters themselves, or gazing at the very masterpieces she describes (wondrously detailed yet, sadly, fictional).
Character chemistry was also a big winner for me. Every time two or more characters were in the same room together, something came to life. The deep family connection I felt between Kat and her relations gave a real warm, loving feeling to all of their scenes together, and Kat's conversations with the evil Arturo Tarconne were so lively and enjoyable that I firmly believed the villain when he said: "This, as they say, could be the start of a beautiful friendship."
All in all, it's hard for me to summarise Heist Society without babbling on too much, for—cynic that I am—I find it hard to talk so long in positive phrases without sounding goofy. But nevertheless, let me finish by reiterating how much I enjoyed the fast-paced and dashingly executed caper that was Heist Society, and how much I am looking forward to reading the following instalments in the series.
Recommended to:
Recommend for people who love excellent teen adventure, but need a break from the sappy-teen-drama.