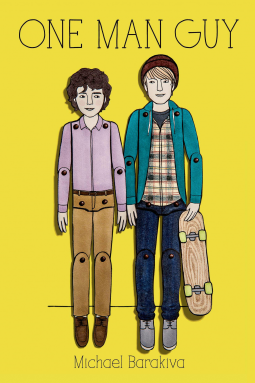 Title: One Man Guy
Author: Michael Barakiva
Published: May, 2014 by Farrar, Straus and Giroux (BYR)
Thanks: Macmillan via NetGalley
Pages: 272
Rating:






Purchase: The Book Depository
Alek Khederian should have guessed something was wrong when his parents took him to a restaurant. Everyone knows that Armenians never eat out. Between bouts of interrogating the waitress and criticizing the menu, Alek's parents announce that he'll be attending summer school in order to bring up his grades. Alek is sure this experience will be the perfect hellish end to his hellish freshman year of high school. He never could've predicted that he'd meet someone like Ethan.

Ethan is everything Alek wishes he were: confident, free-spirited, and irreverent. He can't believe a guy this cool wants to be his friend. And before long, it seems like Ethan wants to be more than friends. Alek has never thought about having a boyfriend—he's barely ever had a girlfriend—but maybe it's time to think again.
Final Thoughts:
This book was so much fun! It was just what I needed after a five week slog through my last book. I was finished One Man Guy in a matter of hours, not even bothering to get dressed for the day. I just couldn't stop reading. It was refreshing to find gay YA where everyone was as accepting as they were, skipping the angst in favour of a light-hearted yet heart-warming piece of escapism. Set amidst New York and the outer suburbs, it took well advantage of the setting and created something that I felt added an extra dimension to the rom-com playing out in my head.

One Many Guy rejuvenated my inner-reader, probably from the first page. It was just so easy to get into. I may have been cringing at the embarrassment Alek's overly critical parents were putting the waitress through, but I was loving it at the same time. I had to stop and repeat passages for those around me. I just had to. This guy's parents were just so quotable. They could pick a flaw with ANYTHING. It all leads back to their Armenian heritage which plays a strong part in this story. I actually found this aspect really pretty interesting.
I loved the best friend, though. She came off a little in-your-face to start with, but she quickly morphed into this Hepburn loving movie buff/skater girl. In short, I loved whenever she popped up. She had a confidence about her, laced with this sarcastic humility that I couldn't get enough of. I liked that she was given her own goals and wasn't just sitting around pining for her chance to appear on the page. She's given enough chances to be petty about it, but puts it behind her, adding to the feel-goodness of this book.
Looking back at the romance, all I can do is squee. Alek and Ethan were so cute together. It has a few angsty moments, but for the greater part, these two guys avoid all of the trappings and just have fun exploring getting to know each other. Yes, they actually take the time to get to know each other. It all plays out quite naturally, where you can tell they like each other, but neither of them is rushing or trying to push the other into something. What makes it even better is Alek's almost complete lack of an internal conflict over realising he's gay. It just becomes a part of him. We need more books like this. If you're looking for a new contemporary to dive into, I say pick this one up.
Recommendation:
Fans of Will Kostakis' The First Third will get a kick out of this. Both books have a heavy footing in family and cultural differences.