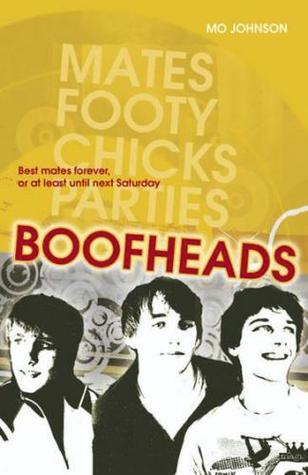 Title: Boofheads
Author: Mo Johnson
Published: August, 2008 by Walker Books
Pages: 267
Rating:






Purchase: The Book Depository
When their English teacher sets an assignment to write a letter as Mr Darcy from Pride and Prejudice, it gives Tom Sweeney the chance to prove that he is definitely not a boofhead. Getting inside a chick's mind isn't rocket science – he can "do the sensitive male thing" with the best of them. To prove his point, he becomes an agony aunt for his mum's new magazine, PINK. Using the pseudonym Carrie Edwards, he ropes in his best mates, Casey and Ed, to help execute his dastardly plan. But being Carrie Edwards is harder than it looks and the three amigos' lives begin to spiral out of control. Has it all come to an end for the Boofheads?
Final Thoughts:
The title was the first thing that reached out to me. I was in the mood for something funny and Australian, and "Boofheads" I think pretty much gave a good feeling. Not only did this novel turn out to be funny, but it was smart, engaging, and incredibly moving at times. It is such a cleverly written coming-of-age story about Tommo and his mates, Casey and Ed, as change sweeps in and threatens to tear their friendship apart. I spent the entire read hoping, and was glad to find out that it was at least on someone's HSC reading list, because it reminded me so much of other must-read Aussie classics such as The Getting of Wisdom and Puberty Blues.

The blurb given above doesn't really summarise the novel as best as it could. The whole 'agony aunt' plot doesn't really have that much to do with the heart of the story: that "their lives begin to spiral out of control". This is what matters, and has more to do with Casey and Ed's circumstances changing, and Tommo starting to see his friends changing too. Casey becomes withdrawn, arrogant and irritable because of family issues, and Ed gets caught up in a troublesome crowd of fellow football players and succumbs to peer-pressure. Meanwhile Tommo is left out in the cold wondering why his mates can abandon him so easily.
Tommo is incredibly relatable in his confusion and his desperation to understand what is happening to his mates and to himself. Throughout the novel he expresses his emotions clearly to the reader as he goes on a roller-coaster ride of resenting both his mates, trying to prove himself as a 'ladies-man', and having the hots for several girls in his class at once. I thought it was great that we mostly bypassed the high school romantics to have a story completely focussed on a group of boys struggling with identity, growing up and basically being boofheads about it.
I've mentioned in an earlier review that I find it hard to speak in positive terms for too long without feeling goofy or clumsy about my phrasing, but I don't think there was any time I did not feel in tune with this book. To quibble for the sake of quibbling, I suppose some of the side characters felt a bit typical in their place (e.g. the snob, the jock, the weirdo) but that was mostly only noticeable for me in retrospect, and the ones that count just felt natural and free like they could've been people I knew.
In fact, various characters did remind me of people I knew myself in high school. The language was pretty much what I remember from the guys at school, too – all the top blokes talking about banging their girlfriends on the weekend, and drinking heavily at house parties. The problems Tommo, Casey and Ed faced (excluding Tommo's 'Carrie Edwards' stunt) felt real, honest and understandable. It was just so real, and I loved it. You may dislike some of the characters by the end of the book, but you can't help feeling like you understand them, much the same as Tommo begins to understand his mates a little bit more.
Recommended to: Those looking for suburban high school dramas, no crazy plot gimmicks, just pure YA friend on friend drama action.