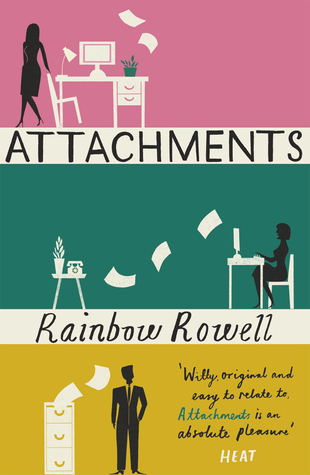 Title: Attachments
Author: Rainbow Rowell
Published: April, 2011 by Orion
Pages: 357
Rating:






Purchase: The Book Depository
"Hi, I'm the guy who reads your e-mail, and also, I love you . . . "

Beth Fremont and Jennifer Scribner-Snyder know that somebody is monitoring their work e-mail. (Everybody in the newsroom knows. It's company policy.) But they can't quite bring themselves to take it seriously. They go on sending each other endless and endlessly hilarious e-mails, discussing every aspect of their personal lives.

Meanwhile, Lincoln O'Neill can't believe this is his job now–reading other people's e-mail. When he applied to be "internet security officer," he pictured himself building firewalls and crushing hackers–not writing up a report every time a sports reporter forwards a dirty joke.

When Lincoln comes across Beth's and Jennifer's messages, he knows he should turn them in. But he can't help being entertained-and captivated-by their stories.

By the time Lincoln realizes he's falling for one of them, it's way too late to introduce himself.

What would he say . . . ?
Final Thoughts:
Attachments has so much heart. I loved every minute I spent with this book. There were no chapters that felt like a chore to get through, rather, I found myself flying through it, struggling to put it down whenever I had to get back to other things…like work. Sure, starting out, I wasn't sure whether I could get into Lincoln, the IT guy's point of view, but with the way his character built and built and built, I couldn't help but love his chapters just as much as the ones spent with the girls.

I can't believe I've never come across a book like this before. I guess the idea of chapters full of back-and-forth email conversations might sound a bit strange—like it would be just dialogue and no descriptions—but with Beth and Jennifer's rapport, it never felt like it was lacking anything. The two of them felt just as real as any of the characters we met through Lincoln's chapters. The way they write to each other, it's just so engrossing, the emotional nakedness that they allow each other to see through their written words.
Of course, it's often also hilarious, with each of them allowing their neuroses out, dishing on their love lives, everything that's wrong with them, and all of the family drama they're being subjected to. In true romantic comedy style, things quickly get messy and for them, that's when everything upped a notch for me. Basically, I was hooked. Right alongside Lincoln, I felt like I was there, spying on their emails, finding out all of these incredibly personal things and wondering how on Earth a romance could get around the secrets that were bearing down on him.
The side characters aren't fleshed out all that much, but for a standalone romance, they didn't really need to be. I was engrossed enough in the lives of Jennifer, Beth and Lincoln, that I didn't need to know much more to keep me hooked. Lincoln's mum was probably the most memorable. She definitely had her quirks, or more like, an obsession, with her son. Not in a weird way, just a mum that doesn't have much of a life outside her kids.
To me, Lincoln was the epitome of the late-twenties, lonely guy. I think that made him so loveable. You just wanted everything to go right for him. Spurned by his first and only love, he'd practically hidden away, skipping the life-forming period of his twenties. Still living at home with mum, he'd completed numerous degrees, getting over-educated, and spent his weekends playing Dungeons and Dragons. Basically, he was in a rut. As the chapters rolled by and he grew more and more attached to the emails between the girls, he really started to grow as a person. The changes were small, but each one of them added up, helping him become a much more self-sufficient, at times happy, and at times, neurotic, person. But then again, that's romance.
Recommended to:
Those after a 90's workplace romance with hilarity and heart.