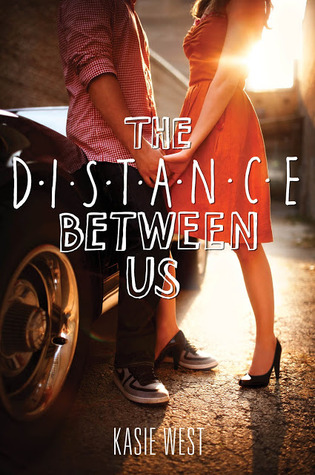 Title: The Distance Between Us
Author: Kasie West
Published: July, 2013 by Harper Teen
Pages: 312
Rating:






Purchase: The Book Depository
Seventeen-year-old Caymen Meyers studies the rich like her own personal science experiment, and after years of observation she's pretty sure they're only good for one thing—spending money on useless stuff, like the porcelain dolls in her mother's shop.

So when Xander Spence walks into the store to pick up a doll for his grandmother, it only takes one glance for Caymen to figure out he's oozing rich. Despite his charming ways and that he's one of the first people who actually gets her, she's smart enough to know his interest won't last. Because if there's one thing she's learned from her mother's warnings, it's that the rich have a short attention span. But Xander keeps coming around, despite her best efforts to scare him off. And much to her dismay, she's beginning to enjoy his company.

She knows her mom can't find out—she wouldn't approve. She'd much rather Caymen hang out with the local rocker who hasn't been raised by money. But just when Xander's attention and loyalty are about to convince Caymen that being rich isn't a character flaw, she finds out that money is a much bigger part of their relationship than she'd ever realized. And that Xander's not the only one she should've been worried about.
Final Thoughts:
Effortless. I soared through the pages of this. Caymen was just such loveably sarcastic narrator that I wanted to read more, more and more. I love dry wit—nothing makes me laugh more. And laugh I did. I cracked up reading this book. Sure, it's a romance, but if you're a sarcastic person, you'll find it hilarious at the same time. It's kind of fluffy, with rich boy meets poor girl, different worlds—the stuff you could make a montage out of—but it's the slow build of their romance, all of the interactions, that make it worth it.

Starting out in their struggling doll shop/tiny adjoined apartment, we get to see Caymen in all her sarcastic glory. Occasionally internalising what she'd like to say, it's funny seeing how she sensors herself when she has to. Like around rich customers. Often being the responsible one, Caymen didn't irritate me by making silly decisions. She just has sass. Though the store isn't the main focal point of the book, I enjoyed the development that it and Caymen's mother got. Without it, or the appearances of her friends, she would have had little in her life besides Mr Rich Boy, Xander.
Caymen actually only had one friend at the beginning of the book, her friendship group spiralling out of her friend's newest boyfriend. That was probably a good way of doing it. It's hard to get the balance right when you're trying to focus on the romance, so letting us get to know these new friends at the same time as Caymen kind of worked. There was a bit of a love triangle going on, but it wasn't one of epic proportions. It was more unwanted interested than anything. I could believe that. It added a bit of drama early on, but never left me questioning where things were headed.
Spending time with Caymen and Xander on their 'Career days'…aka, 'a reason to date without calling it that', was kind of cute. With each of them trying to show the other something new, we got some heartfelt and some humorous moments…and angst. I wasn't particularly fond of the obstacles that kept getting thrown in their way, but then, what fun would the book be without the drawn out journey? It was always worth it when we got to those eye-opener moments where the feelings came out and made you realise just why you were reading this book. The rich guy/poor girl situation may be a cliché, but I didn't care. Their relationship is fun, they're cute together… I'd definitely read more Kasie West.
Recommended to:
Anyone after a quick, sarcasm-filled contemporary.