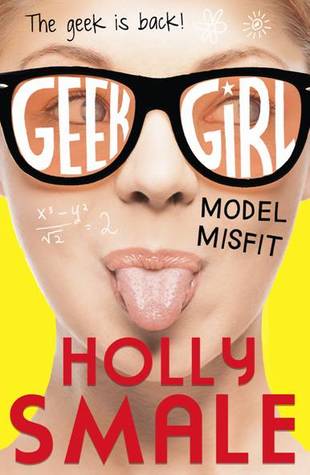 Title: Model Misfit (Geek Girl #2)
Author: Holly Smale
Published: September, 2013 by Harper Collins
Pages: 386
Rating:






Purchase: The Book Depository
Harriet knows that modelling won't transform you. She knows that being as uniquely odd as a polar bear isn't necessarily a bad thing (even in a rainforest). And that the average person eats a ton of food a year, though her pregnant stepmother is doing her best to beat this.

What Harriet doesn't know is where she's going to fit in once the new baby arrives.

With summer plans ruined, modelling in Japan seems the perfect chance to get as far away from home as possible. But nothing can prepare Harriet for the craziness of Tokyo, her competitive model flatmates and her errant grandmother's 'chaperoning'. Or seeing gorgeous Nick everywhere she goes.

Because, this time, Harriet knows what a broken heart feels like.

Can geek girl find her place on the other side of the world or is Harriet lost for good?
Final Thoughts:
Having read and loved Geek Girl a week prior to this, I jumped straight in, ready to lap up another instalment of Harriet Manners, haphazard model-slash-know-it-all and all of the whacky characters that came along with her. However, and I hate having to say this, I think a bit of second-book-syndrome came into play this time. A lot of the crazy antics that her agent, Wilbur, as well as her wannabe-teenage father and lawyer, but loveable, stepmother brought were gone. And that's just because the characters were. Shipping Harriet off to Japan—while cool—left all of the side characters I'd come to love behind, and so, it felt like the book had lost something…

I still flew through the story, though. It was hard not to. Smale's writing draws you in, keeping you attached to Harriet and all of her dramatic—and occasionally geeky—trappings. But in saying that, the plots aren't overly involved, leaving the series open to continue or wind up whenever the author feels like it. It's just a comfort book, something that makes you feel good for however long you spend with it. Harriet is adorable and fun to root for. And as smart as she is at retaining facts, it's enjoyable seeing the flaws in her armour, watching her make mistakes. I admit, a particularly obvious one may have gipped me a bit, waiting for things to crumble because of it, but it wasn't stressful enough to make me throw the book across the room. The romance however…
That's two lots of '…'s (Okay, three now. But I think it calls for it.) Nick. Oh, Nick. Male model. Lion boy. Harriet's crazy about him, but I just wasn't feeling it. He's hardly in the picture in either of the books, in fact, I think Harriet's stalker, Toby, shows up more. For me to believe in the Nick push, I feel like I'd need to see more of the real him, not just the swoony performance he gives every once in a while when he pops in. I get he's attractive, but I wanted to learn more of his personality. And this book just didn't give it. He used more as an angst anchor, to stir up Harriet's inner turmoil, and that's fine, but just don't expect me to be all excited about any smoochy-time between the two of them without any build up.
I feel like I've been a bit too ranty. In actuality, I'm quite fond of this series. I've just gone out and bought the third, getting ready to tackle it next. I love Harriet, and the insight into modelling from an outsider's perspective. It is, albeit, quite skewed, seeing how many second chances Harriet gets, despite costing people countless amounts in overtime, wrecked designs and whatever else she manages to break in her attempts at wearing clothes in front of a camera. But putting those thoughts aside, it's fun, quirky, and just a bit addictive.
Recommended to:
Those after some light-hearted sarcasm, the occasional fashion shoot and a general smidge of nerdiness.