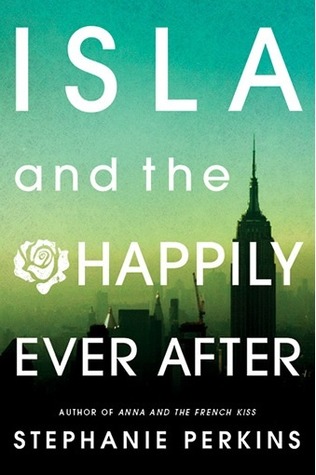 Title: Isla and the Happily Ever After (Anna and the French Kiss #3)
Author: Stephanie Perkins
Published: August, 2014 by Usborne
Pages: 375
Rating:






Purchase: The Book Depository
Love ignites in the City That Never Sleeps, but can it last?

Hopeless romantic Isla has had a crush on introspective cartoonist Josh since their first year at the School of America in Paris. And after a chance encounter in Manhattan over the summer, romance might be closer than Isla imagined. But as they begin their senior year back in France, Isla and Josh are forced to confront the challenges every young couple must face, including family drama, uncertainty about their college futures, and the very real possibility of being apart.

Featuring cameos from fan-favorites Anna, Étienne, Lola, and Cricket, this sweet and sexy story of true love—set against the stunning backdrops of New York City, Paris, and Barcelona—is a swoonworthy conclusion to Stephanie Perkins's beloved series.
Final Thoughts:
I expected to love this, and I did. Jumping on the Stephanie Perkins bandwagon late in the game, I'd only recently read the first two in this addictive contemporary romance trilogy. I don't know how so many others did it, waiting so long for this final instalment. Each book is separate—with its own couple at the focus—so you're not exactly left hanging, but they all fit together in a way that has you invested in all of their lives. It's hard for me to pick a favourite because with each read, I got hooked again and again. Anna, Lola, Isla—they were all great. But I definitely loved that we got to go back to Paris this time around with Isla.

The setting really is such a big part of the book. Scenes don't happen in bubbles—which I think heightens the experience. Places come to feel familiar as you go through the book, adding another layer of realism. While there may be a bit of wish fulfilment in the idea that a long time crush finally clicks with her and wants to date her, I couldn't get enough of it. Josh was a nice guy without any of that snark. But having been abandoned by his friends that had graduated and under pressure from his Senator father, he had more than his share of issues.
Rather than simply serving as a bio point, they formed a part of the plot. Romantic adventures are still aplenty, but there's meat on the bone so to speak. Isla, being a middle child, brings her own family drama into things, vastly different to her older and younger sisters. With only a single friend, a boy she'd known from childhood, the friendship side of things took things in a different direction, finally giving us a platonic boy/girl best friend pairing—one without all the unrequited buried feelings on one side. I appreciated the change, and really came to like the territorial dynamic it brought to the romance.
Being such a feel-good series, these books are hard to picks faults with. Not every minute of it is happy. There are low points. But they make you yearn for the high points even more. Building gradually through both small and big events, the getting to know you stages, the hand holding, the first kisses, all of that. You really get involved in the outcome. These people are real to me. Isla, Josh, Lola, Cricket, Anna and St. Clair. They're the friends you want to have, the people you can't help but want to find their happily ever after's.
Recommended to:
Anyone after a good contemporary romance. Read them in order though. Each one adds to the next, with appearances from characters in previous novels that add something extra that'll you'll otherwise miss out on.