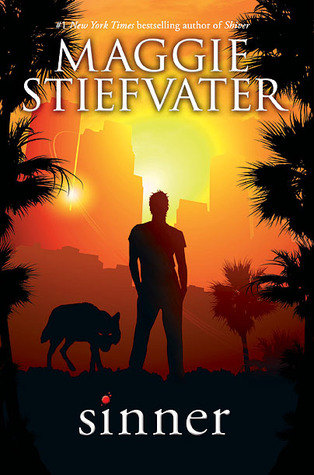 Title: Sinner (Wolves Of Mercy Falls #4)
Author: Maggie Stiefvater
Published: July, 2014 by Scholastic
Pages: 357
Rating:






Purchase: The Book Depository
A standalone companion book to the internationally bestselling Shiver Trilogy.

Sinner follows Cole St. Clair, a pivotal character from the #1 New York Times bestselling Shiver Trilogy. Everybody thinks they know Cole's story. Stardom. Addiction. Downfall. Disappearance. But only a few people know Cole's darkest secret — his ability to shift into a wolf. One of these people is Isabel. At one point, they may have even loved each other. But that feels like a lifetime ago. Now Cole is back. Back in the spotlight. Back in the danger zone. Back in Isabel's life. Can this sinner be saved?
Final Thoughts:
Given how sparsely the werewolf aspect came into play, this book was basically a contemporary. Don't get me wrong, I love contemporaries, but stepping back into the series after the events of Forever, it took a moment to adjust to the change in pace. While I didn't fall in love with the book, I still enjoyed it for what it gave us: Cole and Isabel as semi-adults—the in-between stage. I wasn't entirely sure whether I agreed with them as a couple, they clearly cared about each other, but it was hard when there were just so many angsty interruptions. I wanted something I could root for, the moments that make you love what you're reading, but Sinner just didn't get there for me.

With Cole now the star of an internet reality show documenting his musical comeback, he really did push through as the central point of view. I felt like I got to know him a lot more than I did Isabel. Seeing behind the big personality to the clingy/caring person inside gave him a warmth and likeability that Isabel often lacked. I still enjoyed her chapters but found her quite contrary in her actions. She was constantly finding flaws in Cole, latching onto anything that would tear them apart rather than giving him the benefit of the doubt. I got it, coming from a broken home, she'd built a wall around herself, hiding her emotions, inflicting pain before it could be inflicted on her, but damn, there were so many unnecessary ups and downs. Why couldn't we have had some wolfy problems instead?
I enjoyed a lot of the book, but I didn't love the book. The side characters like Isabel's ever-pleasing-yet-shy cousin and Cole's driver-turned-friend were fun, COLE was fun, the music and the reality show antics were fun in a way, but the book…it just didn't grab me. I finished it semi-satisfied, yet wondering what had just happened. Basing it around a destructive couple was a smart way to step out from all of the fairy-tale pairings, but the way things played out just felt too rushed, like the angst needed to be wrapped up purely for the sake of keeping the page count in check. I don't recommend going into this for the romance, but rather, Cole and the side characters. There is plenty of fun to be had if you can manage to adjust your expectations and find 'the way'.
Recommended to:
Fans of Cole and Isabel who aren't after a continuation of the wolf plot.