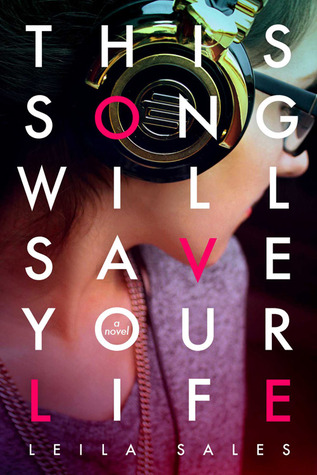 Title: This Song Will Save Your Life
Author: Leila Sales
Published: September, 2013 by Farrar, Straus and Giroux
Pages: 279
Rating:






Purchase: The Book Depository
Making friends has never been Elise Dembowski's strong suit. All throughout her life, she's been the butt of every joke and the outsider in every conversation. When a final attempt at popularity fails, Elise nearly gives up. Then she stumbles upon a warehouse party where she meets Vicky, a girl in a band who accepts her; Char, a cute, yet mysterious disc jockey; Pippa, a carefree spirit from England; and most importantly, a love for DJing.

Told in a refreshingly genuine and laugh-out-loud funny voice, THIS SONG WILL SAVE YOUR LIFE is an exuberant novel about identity, friendship, and the power of music to bring people together.
Final Thoughts:
Desperate for someone to like her, Elise is a character that stands out in all the wrong ways. Nobody knows her, or even cares to get to know her, but everybody hates her—or at least thinks they should. I don't think I've felt so bad for a character before, really felt what they were feeling, the real, everyday struggles they were going through. There is so much emotional bullying going on at this school, more than your average mean girl insult thrown about here and there. This school felt unbearable. Without a single friend, I don't know how anyone could cope in that environment. I truly wanted to jump through the pages and hang out with Elise before she went over the edge.

Despite how bad the scenes at the school were, they provided Elise with so much room to grow as a person, to see what existed beyond those narcissistic walls and actually start to enjoy life. In terms of pacing, it didn't feel like much of a slog before the feel-good came along. The whole book was had this aura about it, one that kept me entranced. I became addicted to it all: Elise's weekly middle-of-the-night sneak-outs to go clubbing, the new people in Elise's life and the old ones and their attempts to derail her.
The DJ boy, Char, was a welcome distraction for Elise. I particularly liked the way she took on their relationship and didn't go down the traditional route. There were times when I liked them as a couple, and times when I didn't—it went back and forth a bit. The ups and downs made it seem more like the teen relationship that it was, and I appreciated it for that. The romance wasn't the main focus in my opinion, anyway—Elise's burgeoning new passion was. She became this whole new person, or at least got to unleash a side of her that her oppressive school had been holding back.
While I cheered her on for the most of the book, I wasn't particularly fond of the lack of responsibility that Elise took for her actions. There were a number of instances where she was clearly in the wrong, yet the consequences seemed minimal. I get she'd already been through more than her fair share of crap, but it just gave me a few moments of thinking to myself, 'Come on, really?'
Aside from that, I pretty much adored This Song Will Save Your Life. It was never a struggle to pick it up, and with the low page count I'd had my way with it in only a day or two. In fact, immediately after, I gave it to my guest reviewer, Joey, to read because I knew he'd love it too.
Recommended to:
Anyone after a quick, but powerful read to remind you of high school and ensure that you never want to go back there.