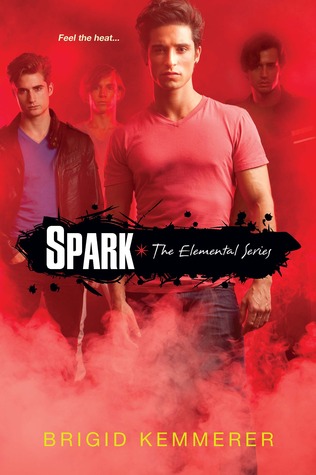 Title: Spark (Elemental #2)
Author: Brigid Kemmerer
Published: August, 2012 by Kensington
Pages: 345
Rating:






Purchase: The Book Depository
Gabriel Merrick plays with fire. Literally. Sometimes he can even control it. And sometimes he can't. Gabriel has always had his brothers to rely on, especially his twin, Nick. But when an arsonist starts wreaking havoc on their town, all the signs point to Gabriel. Only he's not doing it. And no one seems to believe him. Except a shy sophomore named Layne, a brainiac who dresses in turtlenecks and jeans and keeps him totally off balance. Because Layne has a few secrets of her own…
Final Thoughts:
Gabriel Merrick is one angsty guy. There were times where I was grunting in frustration at some of things he was doing. He didn't seem to like being isolated from his brothers yet his short temper would get the better of him and he'd do more and more to wedge the distance between them wider. There was very little time spent with the other Merrick boys because of this. Most of it came down to his lust for fire…and the girl in his Math class, Layne. Bickering, romance, fist-fights and self-doubt ensued. While it took me a while, say a hundred pages, to get back into the story, once I did, I found it a heap of fun. The Elementals is a series I'll certainly be continuing. I've got Spirit sitting in front of me right now.

I didn't fall in love with the romance, hanging off every word spoken between the two destined to be, but they weren't a bad pairing. I just think I didn't get to know Layne's character well enough. Gabriel, on the other hand, by the end, I felt like I knew him too well. Everything he did was just so him, sometimes irrational, but so him. His vulnerability mixed with a brutish anger worked so well when he wanted to put a wall between him and anyone who tried getting close. Watching his constant rowing was a little tiring, wanting to knock some sense into him, but then again, it made it that much better each time you got to see someone actually get through to him.
In terms of progressing the plot of the series, I didn't feel like this book added a lot. I was reminded that there are these 'guides' that want to kill them for some reason, but that was about it. The paranormal aspects really only came into it through Gabriel's own experimentation with his abilities—trying to gain control of them. If it was a contemporary, I probably wouldn't have any complaints as the high school drama was there, the family drama was there, the relationship drama was there, it was all very dramatic.
Recommendation:
While I don't think the book is going to remain overly memorable for me, if you love angst where you just want to strangle some characters, this is the book for you.