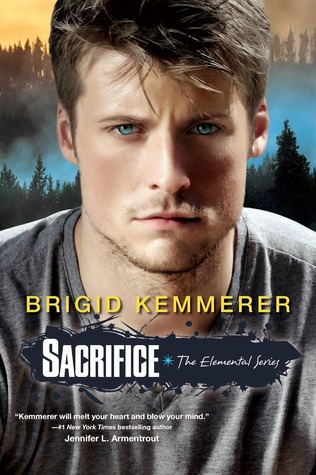 Title: Sacrifice (Elemental #5)
Author: Brigid Kemmerer
Published: September, 2014 by Kensington
Pages: 324
Rating:






Purchase: The Book Depository
One misstep and they lose it all. For the last time.

Michael Merrick understands pressure. He's the only parent his three brothers have had for years. His power to control Earth could kill someone if he miscalculates. Now an Elemental Guide has it in for his family, and he's all that stands in the way.

His girlfriend, Hannah, understands pressure too. She's got a child of her own, and a job as a firefighter that could put her life in danger at any moment.

But there are people who have had enough of Michael's defiance, his family's 'bad luck'. Before he knows it, Michael's enemies have turned into the Merricks' enemies, and they're armed for war.

They're not interested in surrender. But Michael isn't the white flag type anyway. Everything is set for the final showdown.

Four elements, one family. Will they hold together, or be torn apart?
Final Thoughts:
This is the book I've been waiting for. It's no secret that Michael's been my favourite of the Merrick brothers throughout the series, so coming into his book I was ready for it to hook me, and it did. Actually, I think I've been hooked since Spirit, but with this being the final instalment, it just brought so much more to the table. Whereas the books teetered around their troubles with the Guides—assassins sent to kill them—tending to focus more on the romantic struggles of the main couple each book, Sacrifice slammed right into an angsty mess of constant danger as Michael tried to keep everyone he cared about alive.

Personally, I thought the series was a lot better when it focussed on the overarching—the Guides, their abilities, people out to get them. If there weren't so many brothers needing their own books, the series could have easily condensed all of it down into a trilogy and you'd get a much tighter story. Books 1, 3 and 5 were where most of the plot came into play, but book 4 definitely did heaps for character advancement. Maybe I'd only leave out book 2 then. Gabriel and Layne frustrated me to no end.
Hannah and Mocha— I mean, Michael, they were a different story. Both of them adults, or at least trying to be, they brought a different dynamic to the headspace of the book. There was no time for the petty high school stuff—lives were in danger. The relationship still had its obstacles, but they weren't the focal point. Solving their own lives came in second to those of their loved ones. Michael's life really went through the wringer this time, with blow after blow of disasters. It kept the story tense, and held me, as the reader, on edge.
Hannah's problems may not have been as big as Michael's, but I could still feel for her, trying to navigate her male-dominated workplace of firefighters—one that followed her home in the form of her Fire Marshall father—and deal with the realities of being a single mother in her early twenties. With Michael keeping Hannah in the dark regarding everything Elemental in the hope of keeping her safe from the Guides, her point of view had the potential for a whole heap of relationship angst like we saw previously with Quinn, but instead, it brought a whole level of worry and fear—okay, and a bit of anger, too, but I liked that.
Michael's bottled up emotions were what really got me. I'd been waiting four books to see what's been going on in that head of his, and it didn't disappoint. Faced with plenty of opportunities to give up, his love for his brothers—his responsibilities as a makeshift parent—it always seemed to keep him going. I can't say that I would be the same. With the stakes being life and death, this is one book I wouldn't want to step into the pages of. The nail-biting, the grinning, the tears—I loved all of it—but damn, I'd leave it to the Merrick brothers.