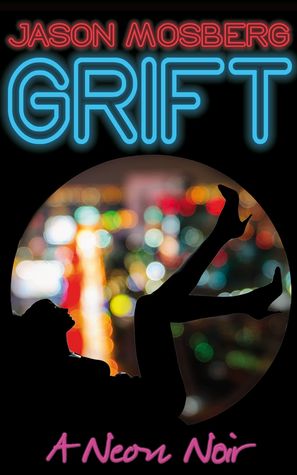 Title: Grift
Author: Jason Mosberg
Published: March, 2015 by Smashwords
Thanks: Jason Mosberg
Words: 74,930 (ebook)
My Rating:






Purchase: Smashwords
Why would a 17-year-old girl pretend to be a high class escort?

Piper is a con artist whose canvas is the city of Las Vegas. She rolls with a crew of young grifters including a card-counting genius, a tourist-hustling pool shark, and a pocket-picking magician. Together, this crew of teenage outlaws live with their mentor Max in the penthouse of a hotel casino. They work hard and play harder. But unlike the others, Piper must balance her hyper-real Vegas fantasy with the reality of raising her 14-year-old half-sister Sophie. Disaster strikes when the Las Vegas mafia kidnaps Sophie and demands a multimillion-dollar ransom. With only five days to piece together the money, the crew races the clock to save her.
Final Thoughts:
This was such a refreshing read. What starts out as a simple kidnap scenario escalates into a gripping plot of greed, betrayal and Las Vegas. And the protagonist is seventeen!—which I thought was fantastic. Sure, there are plenty of adult themes that require an older character for it to be somewhat inoffensive, but to be perfectly honest I was just so glad to have a YA caper/noir where the leads weren't filthy rich, irresponsible early-to-mid teens pretending to be responsible and mature twenty-somethings.

There was a bit of intro in the beginning, and it was only at about a quarter to a third of the way through that I felt the rhythm really kick in to the story. It gains a cinematic feel about it, I suppose because the descriptions of Las Vegas conjured up nothing but classic Ocean's 11 memories for me. It's not exactly one of those "the city is a character in itself" stories, but of course the scenery and history of the city, as described in the novel, definitely acts as more than a mood setter – Las Vegas acts as a symbol for its very own corruption and greed, and spends the entire novel brooding over itself and its victims, the tourists. Talking of it like that almost reminds of 'T.J. Eckleburg', but in a much more vampiric sense. As the clock counts down for Piper's kidnapped sister, the pace quickens as the lives and lies of the numerous characters begin to unravel, and the book soon becomes impossible to put down.
I really appreciated the relationship between Piper and Jesse (and even Piper and her mentor, Max). I absolutely did not want another "Girl meets guy she hardly knows – a week later they're instant soul mates" storyline, and these two thankfully delivered almost the complete opposite. Having long-term friends come to terms with, and openly discuss their newly discovered feelings for each other, seemed a more true-to-life approach which had me glued to the page. As for Piper and Max, we learn just how much Piper leans on her father-figure/mentor for support in the absence of her neglecting, and drug addicted, prostitute mother. Seeing how Piper invests so much of her emotions in her actions and behaviour really got to me. While some novels use pure survival as the emotional link between the reader and the characters, Grift has a more relatable effect, I think, with Piper's efforts in her pursuit of happiness.
Jason Mosberg really made the right decision by self publishing his novel. The idea of watering the story down and making it less edgy – which is what the various publishing houses that approached him apparently asked him to do – would've made Grift too family hour. It's a neon noir, not a nursery rhyme. I just hope Grift can get the same attention and recognition that a publishing house novel with backing from their own promotional department would get.
Recommended to: Fans of YA capers like Heist Society, but definitely only suitable for an older audience (adult themes!)