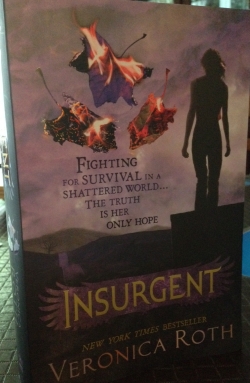 Title: Insurgent (Divergent #2)
Author: Veronica Roth
Published: May, 2012 by HarperCollins
Pages: 525
Rating:






Purchase: The Book Depository
One choice can transform you—or it can destroy you. But every choice has consequences, and as unrest surges in the factions all around her, Tris Prior must continue trying to save those she loves – and herself – while grappling with haunting questions of grief and forgiveness, identity and loyalty, politics and love.

Tris's initiation day should have been marked by celebration and victory with her chosen faction; instead, the day ended with unspeakable horrors. War now looms as conflict between the factions and their ideologies grows. And in times of war, sides must be chosen, secrets will emerge, and choices will become even more irrevocable – and even more powerful. Transformed by her own decisions but also by haunting grief and guilt, radical new discoveries, and shifting relationships, Tris must fully embrace her Divergence, even if she does not know what she may lose by doing so.
Final Thoughts:
I put off seeing this one at the cinema in favour of getting to the book first. Without having seen the movie yet, it's hard to know whether or not that was the right decision. The book didn't hook me. I enjoyed it, but found it lacking in some way from the magic of Divergent. This happens so often: I love the first book, but then things just go downhill from there. Tris became harder to root for, and Four/Tobias (whichever he's being called), he displayed a shift in personality that I wasn't entirely on board with. They loved each other, they hated each other, they loved each other again, they didn't trust each other. Love. Hate. Love. Hate. Waaaaayyyy too much of that back and forth romantic nonsense.
While I wasn't too fussed with the main two characters, those surrounding them actually became a bit more interesting. I found myself coming to like some and despise others. And in getting to know the side characters more, it gave the series a bit more depth and made the deaths that happened more meaningful.
In terms of the action, I felt that much like the romance, it went through crescendo after crescendo, though in this instance, it can be a good thing. It kept a constant build up and ebbing of tension as the book progressed. The only real downfall I felt was that the dystopian plot didn't get enough coverage. Being the middle book of the series, it still left me in the dark for far too long. Bits and pieces are thrown out there occasionally, and the ending, yes, it did get me intrigued. But, leading up to it, I couldn't help but wish I could skip some pages because I wasn't interested enough and wanted to get onto the next book already. Though, knowing me, I'll probably leave that until the next movie's out too.