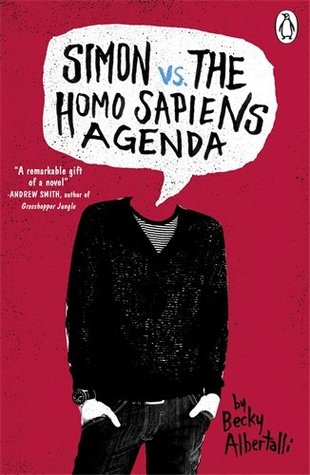 Title: Simon Vs The Homo Sapiens Agenda (Creekwood #1)
Author: Becky Albertalli
Published: April, 2015 by Penguin
Pages: 303
Rating:






Purchase: The Book Depository
Sixteen-year-old and not-so-openly gay Simon Spier prefers to save his drama for the school musical. But when an email falls into the wrong hands, his secret is at risk of being thrust into the spotlight. Now Simon is actually being blackmailed: if he doesn't play wingman for class clown Martin, his sexual identity will become everyone's business. Worse, the privacy of Blue, the pen name of the boy he's been emailing, will be compromised.

With some messy dynamics emerging in his once tight-knit group of friends, and his email correspondence with Blue growing more flirtatious every day, Simon's junior year has suddenly gotten all kinds of complicated. Now, change-averse Simon has to find a way to step out of his comfort zone before he's pushed out—without alienating his friends, compromising himself, or fumbling a shot at happiness with the most confusing, adorable guy he's never met.
Final Thoughts:
This book grabbed me and wouldn't let go. After weeks of searching bookstores, trying to spot a copy, I finally gave in and just ordered it online. I don't know if it's because it's got a LGBT main character that none of my local stores were ordering it in, but they definitely should be stocking this. It's one of the best contemporaries I have come across this year. Keeping you emotionally invested with its wide berth of characters locked in Simon's orbit, this quickly became one of those "just one more chapter" books that keep you up long into the night.

The emailing aspect between Simon and his mystery guy, Blue, replacing every second or third chapter with a series of emails back and forth, actually worked. In fact, I found myself wishing they would happen sooner. Their relationship, based on the concept that neither of them knew who the other was, felt easy to connect with, that freedom of saying things you want to say without having to worry about it affecting the rest of your life. I loved their banter, but it did make me teensy bit jealous of the role technology plays in socialisation now. I mean, where was my Blue when I was teenager?
Full of drama, not only in the romance department, Simon's friendships and his family were always cookie-cutter clean and easy. Friends getting jealous over who likes who, who likes who more, who doesn't like who, basically high school angst. And okay, that kind of thing isn't new, but it's the way in which it's done that makes it a got story. Insecurities drive people. Hormones drive people. They aren't just bitches and backstabbers for the sake of the plot.
Designed to keep you guessing, there were a two or three possibilities for Blue thrown about, which I got a kick out of. It's a lot better than reading a story about the only two gay kids in the school—or in the case of most books five or ten years ago, none. I have to admit that I did work Blue out quite a few chapters before the big reveal. It didn't take anything away from my enjoyment though, it probably added a bit to it. I was like, "Yeah, I'm right!"
Closing the last page with a grin on my face, I think that fact that this book was so good has put me back into a reading rut. I can't pick anything else up because it just doesn't spark that interest in me that this book ignited. I was hooked, gripped, wanted to tear the pages out and imprint them in my brain. When's Becky's next book coming out, already?
Recommended to:
Those who enjoy a good coming out story full of wit, heart and drama.