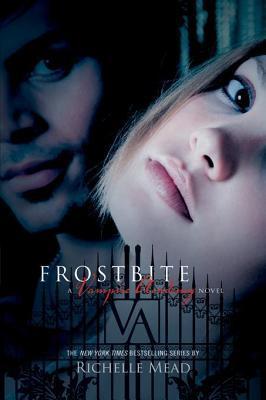 Title: Frostbite (Vampire Academy #2)
Author: Richelle Mead
Published: April, 2008 by Razorbill
Thanks: Penguin, AU
Pages: 327
Rating:






Purchase: The Book Depository
Lissa Dragomir is a Moroi princess: a mortal vampire with a rare gift for harnessing the earth's magic. She must be protected at all times from Strigoi; the fiercest vampires – the ones who never die. The powerful blend of human and vampire blood that flows through Rose Hathaway, Lissa's best friend, makes her a dhampir. Rose is dedicated to a dangerous life of protecting Lissa from the Strigoi, who are hell-bent on making Lissa one of them.

Rose has serious guy trouble. Her gorgeous tutor, Dimitri, has his eye on someone else, her friend Mason has a huge crush on her, and she keeps getting stuck in her best friend Lissa's head while she's making out with her boyfriend, Christian.

Then a nearby Strigoi attack puts St. Vladimir's on high alert, and the Academy whisks its students away on a mandatory holiday ski trip. But the glittering winter landscape and posh Idaho resort only provide the illusion of safety. When three students run away to strike back against the deadly Strigoi, Rose must join forces with Christian to rescue them. Only this time, Rose – and her heart – are in more danger than she ever could have imagined…
Final Thoughts:
Not a lot was achieved throughout this instalment. It felt more like a side story on the way to something bigger. For the most part, I felt like I was waiting for the plot to happen. There's a fair bit packed into the last quarter of the book, and when it got going, it was good, but in leading up, I thought we spent far too much time with Rose worrying about where her non-relationship with Dimitri was going. Where was all of the Lissa/Rose bond stuff (or more importantly—their friendship) that was introduced in book one?

Having read the Vampire Academy over four years ago now, my prior knowledge of the series has withered a bit, so going into this book was like starting afresh. Sure, it did catch me up on most things, but with some things (like character relationships) you can't just say there is one and leave it at that. The lack of interaction between Lissa and supposed best friend, Rose, was limited. It's put down to the fact that both of them seem too busy with their own lives and Rose not wanting to upset Lissa with the details of her own dramas, but that's what best friends are for, to unload on and to take their burdens as well. It seemed very much like their friendship was as one-sided as their magical mind-link bond. Towards the end of the book, things did start to correct themselves a bit, so I'm hoping the next four books actually focus more on them rather than Rose's romantic dilemmas.
And romantic dilemmas she did have. I think I counted three love interest—does that make it a love-square? I know it's only early on in the series and that all of these guys are probably being introduced to keep us wondering who she's going to get with, but I'm still feeling like theirs only one guy that's actually suited to her. I mean, it was clearer to me than it was to her that she was wasting her time with one of the guys and that the other was just wasting hers. That aside, I did enjoy the obstacles thrown at Rose and the progression that she went through—especially so with Rose's relationship with her mother.
With a tense, almost hatred towards her mother, they often hit each other with insults (and the occasional limb). This was probably one of the more believable aspects of the story. I got that Rose's mother had abandoned her motherly role for that of a fighter, and Rose's mother's position on her daughter's own life path. All of that, all of it, it felt real to me. And seeing them interact throughout different points of the book was actually quite engaging. Of course, I also enjoyed some of the flirting and snark that went on throughout the book as well, but realism is where I think stories grip you.
Being such a short book helped, I think. But being longer, my problems with it probably could have been addressed. Still, with an ending like this one, it was enough to drag me back for another round and see how things progress. Hopefully next time I'm not going into details on how Rose has found her way into a love-octagon.
Recommended to:
Those that enjoyed the first book or the movie (though, read the book!). This is a series with promise. I mean, it has six books so it must have its fans.