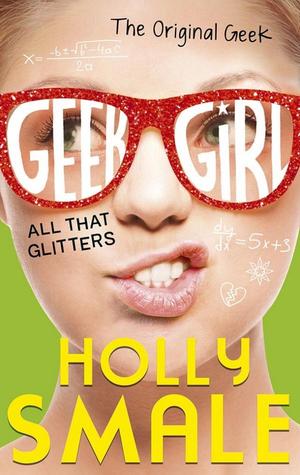 Title: All That Glitters (Geek Girl #4)
Author: Holly Smale
Published: February, 2015 by HarperCollins
Pages: 400
Rating:






Purchase: The Book Depository
"My name is Harriet Manners, and I have always been a geek." The fourth book in the award-winning GEEK GIRL series. Harriet Manners knows many things. She knows that toilet roll was invented by the Chinese in 600 AD. She knows that a comet's tail always points away from the sun. And she knows that the average healthy heart beats 70 times per minute. Even when it's broken. But she knows nothing about making new friends at Sixth Form. Or why even her old friends seem to be avoiding her. And she knows even less about being a glittering supermodel success. Which she now is – apparently. Has Harriet's time to shine like a star finally arrived, or is she about to crash and burn?
Final Thoughts:
With a lot less modelling than the previous three books, this one spends more time getting to know Harriet's real life. High school. Drama. Friends. Frenemies. Family. Lists. Okay, you get the point. I think the time away from the modelling world has helped the series to grow. And the distinct lack of her ex-boyfriend/model, Nick, was a plus too—though I can feel a new love interest edging up on the horizon already. But that wasn't what this book was about—it centred around Harriet's desire to change herself, to make people like her, and learning things in the process.

With Nat and Toby off doing their own things, Nick back in Australia and Wilbur still in New York, Harriet's pretty much left to face school on her own (with the occasional throwback to life with her over-enthused dad, caring stepmother and baby sister). And let's be honest, life in high school is not easy—and with Harriet's overbearing need to spurt random, yet slightly related facts at everyone, I quickly found myself in her classmates shoes, finding her just as irritating, especially so in one chapter where she proved just how much of a know-it-all she could be.
I did come to like her again, but she had more than a few moments of saying or doing the wrong thing in a misguided attempt to be popular. But the weird thing was *spoilers ahead* she did become popular. And fast. With her previous modelling shoots starting to find their way into the media, popping up on billboards and shop displays, Harriet's social status went from minus 1 or lower to way past ten. She had newfound followers in the form of the bitchy girls at her school, and practically every other student wanted a piece of her. I found this the most realistic part of the series thus far and loved that this book took us there.
With people hanging on her every word, Harriet become something of an icon to her peers, though surprisingly she managed to retain a sense of compassion about her. Her ego inflated a bit though, with more than a few scenes where she got herself into trouble, but this book showed us what kind of person she really is, and like any other Geek Girl book, it brought on the warm and fuzzies, reminding why I'm not fazed that this series seems to have no end in sight. It's fluff, but it's the right kind of fluff. Bring on the next one!
Recommended to:
Contemporary fans, and those who enjoy a bit of high school drama.