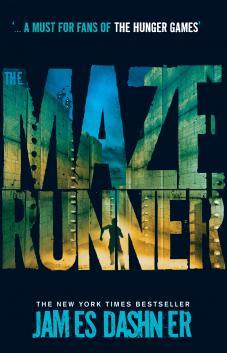 Title: The Maze Runner (The Maze Runner #1)
Author: James Dashner
Published: October, 2009 by Delacorte Press
Pages: 371
Rating:






Purchase: The Book Depository
If you ain't scared, you ain't human.

When Thomas wakes up in the lift, the only thing he can remember is his name. He's surrounded by strangers—boys whose memories are also gone.

Nice to meet ya, shank. Welcome to the Glade.

Outside the towering stone walls that surround the Glade is a limitless, ever-changing maze. It's the only way out—and no one's ever made it through alive.

Everything is going to change.

Then a girl arrives. The first girl ever. And the message she delivers is terrifying.

Remember. Survive. Run.
Final Thoughts:
After loving the movie, I thought I would give the book a go and pick up on all of the extra details that the movie left out. Unfortunately, I found that the pages just seemed to drag for most of the first half. We spent quite a bit of time with Thomas getting to know characters and the dynamics of the Glade, but the Maze barely seemed to come in to it. The movie paced things a lot better in that regard. Still, once we got out into the Maze, things quickly picked up, leaving me rushing towards the finish.

The action, though, tended to be more in the background, with things like friendships, allies and enemies playing more into the story. There was a lot of talking, persuading, arguing—things like that. It could be interesting at times, plus, the setting was quite visual, and I loved the concept, but I don't think I could marathon my way through the rest of this series. After spending weeks making my way through the first half of this one, I need a break, something to perk me back up and get me ready to take on The Scorch Trials.
Recommended to:
Dystopian fans. Read this first, then watch the movie.