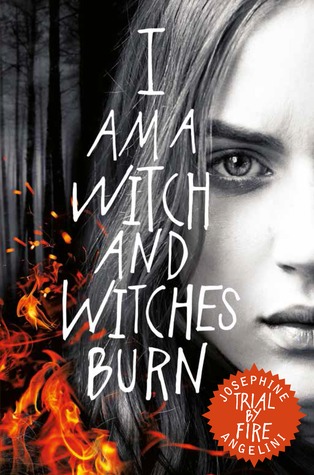 Title: Trial By Fire (Worldwalker #1)
Author: Josephine Angelini
Published: August, 2014 by Macmillan
Pages: 379
Rating:






Purchase: The Book Depository
Love burns. Worlds collide. Magic reigns.

This world is trying to kill Lily Proctor. Her life-threatening allergies keep her from enjoying many of the experiences that other teenagers take for granted…which is why she is determined to enjoy her first (and perhaps only) high-school party. But Lily's life never goes according to plan, and after a humiliating incident in front of half her graduating class Lily wishes she could just disappear.

Suddenly Lily is in a different Salem – one overrun with horrifying creatures and ruled by powerful women called Crucibles. Strongest and cruellest of all the Crucibles is Lillian . . . Lily's identical other self in this alternate universe. This new version of her world is terrifyingly sensual, and Lily is soon overwhelmed by new experiences.

Lily realizes that what makes her weak at home is exactly what makes her extraordinary in New Salem. It also puts her life in danger. Thrown into a world she doesn't understand, Lily is torn between responsibilities she can't hope to shoulder alone, and a love she never expected.

But how can Lily be the saviour of this world when she is literally her own worst enemy?
Final Thoughts:
After thirty or so pages of what felt like a contemporary, things shifted drastically and sent the story into a world of walled cities, oppressive witches, banished outlanders, regular hangings and the threat of killer monsters. Surprisingly, this was a lot of fun, especially for someone that doesn't normally like fantasy. Kingdoms and dragons and all of that aren't my thing, so I was happy to find this focused more on its unique take on magic…oh, and the budding romance. Still, that wasn't too bad either—the chemistry felt natural, though angst was inserted every now and then leaving me a bit iffy on the guy at times, but it didn't rush things (something I certainly appreciated)

Science plays quite a part in the magic of this universe, but not so much that you need any real prior knowledge. Set in a world where magic is central to life, and those who have it (or the most of it) rule, the idea that magic could replace scientific innovation became quite a focal point of the story. I loved how much it relied upon the invention of Willstones—a jewel that people bonded with and held precious until death—using them in almost all facets of their lives, from magically opening doors, storing memories, holding conversations in their minds…or even as ID.
Not your regular spell-chanting witches, these ones required Mechanics. Sexy Mechanics. Okay, I may be making that up, but I can't recall anyone ever turning down a kiss from Rowen. With the ability to sense what their witch needs and treat them, these guys seemed more like doctors, and occasionally, a tool, or a vessel for their witch's magic to flow through. I think the reasoning behind the term, Mechanic, was explained at one point, but it's already slipped past me. Maybe if I had a Willstone…
While I did read the book fairly quick, I felt the middle lagged in comparison to the first and final third. With the initial excitement of discovering the world and getting chased and hunted out of the way, the training session began. Yes, we learned more of the magic, but relationship angst drove the book here. Once the plot kicked back in, I soared through the rest of it, loving the action, and betrayal going down. Lily's evil doppelganger was just plain awesome in her wickedness. And having a second villain in the story added another layer of intrigue to it.
Despite all of the training chapters, I think Lily's character could have been a bit tougher. She never really protected herself, instead, relying on her male entourage to save her whenever things got dicey. Someone should've taught her how to throw a punch. She found herself in trouble quite a lot. Seeing the way Lillian handled herself (and the reasoning behind it) in contrast to Lily made me wonder, if it weren't for all of the hangings, would I root for Lillian instead? And I love that it made me question that. With the way the book left things, I'm fairly certain I have no clue which way things are going to go, but I want to find out.
Recommended to:
Anyone looking for a new take on witches and magic.