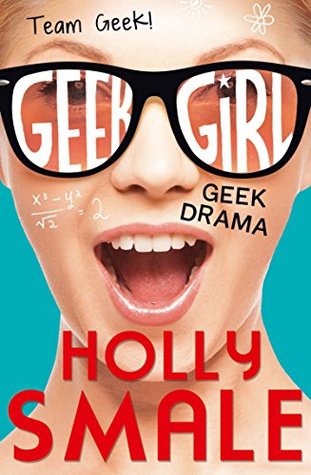 Title: Geek Drama (Geek Girl #2.5)
Author: Holly Smale
Published: February, 2015 by HarperCollins
Pages: 128
Rating:






Purchase: The Book Depository
"My name is Harriet Manners and I am a geek."

Harriet Manners knows that the hottest observed place on earth is Furnace Creek in Death Valley. She knows that dolphins shed the top layer of their skin every two hours. And she knows just how badly auditions can go, especially when you're a model. But she has no idea what to do when her arch-nemesis decides the school play is the perfect opportunity to humiliate her…

Can GEEK GIRL survive the bright lights of the stage?
Final Thoughts:
Despite its short page count, this novella managed to reel me in and tell quite a fun little story. Of course, they're all fun. I love getting back into this series. It's always able to make me smile. And with this one, while it may barely have touched upon Harriet's haphazard modelling career, it didn't feel lacking. Instead, we got to spend more time at school, with Harriet's best friend, Nat, and see some real proof of their friendship, which usually remains in the background.

The romance of the initial books played very little part in this story, which I appreciated. I've never been a fan of Harriet's boyfriend, Nick. He just never seemed as great to me as he did in Harriet's eyes. I love the scenes with her modelling agent, Wilbur, much, much more. Though, like I said, without the focus on modelling, he appeared about as much as Nick did in this one. The school production of Hamlet becomes pretty much the sole focus after a while.
Not that it was a bad thing; it allowed a few things to happen that I had wondered about while reading the other books in the series—regarding Nat, in particular. It also showed us the progression in Toby's character, becoming less of a stalker and more of a friend to Harriet. And Harriet, she wasn't nearly as annoying, spouting her random facts, as she used to be in the beginning. I easily could have read more of this had there been any. I will be continuing with this series for sure.
Recommended to:
Harriet fans. If you're loving this series, don't miss out on this short instalment.