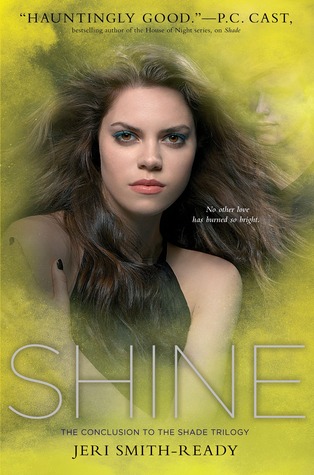 Title: Shine (Shade #3)
Author: Jeri Smith-Ready
Published: May, 2012 by Simon & Schuster
Pages: 399
Rating:






Purchase: The Book Depository
In this dramatic conclusion to the Shade trilogy, Aura and Zachary's relationship sizzles as the secrets of the Shift are revealed.

Life can change in an instant, and no one understands that better than Aura. It's been almost a year since her boyfriend tragically died. She's finally letting go of Logan's violet-hued ghost, but not her search to uncover the truth about her past.

As the first in a generation that can see ghosts, Aura is convinced she has a connection to the Shift. She's trusted Zachary, ever patient and ever by her side, with all that she knows. But when the government threatens his life in an attempt to learn Aura's secrets, she will stop at nothing to protect herself and the one she loves…even if that means betraying her own heart.
Final Thoughts:
With a heavy focus on Aura and Zach's relationship, fans of that aspect of the series will eat this one up. I don't know if too much time has passed since I read the last book, but for me, I thought we got too caught up in all of that. It started out great, with Zachary out of the picture, the stakes high, and Aura and her friends taking on the DMP, but after a while, the evil organisation plot slipped onto the backburner. Still, we did learn pretty much all of the secrets, but I could have used more of an ongoing struggle against the DMP. The ending just felt like it had been tacked on the end—like it could have been placed at any point in the second half of the book and we would have gotten the same result.

Of course, that's not to say that the time spent on character development between Aura and Zach was pointless. It's more that I was bored. Once Aura and Zach started their 'romantic getaway' I just wasn't gripped. I found the first hundred or so pages much more interesting, fun, and well, they felt like the pages of a final book. It felt like the DMP was taking over, that Aura's life, and the lives of all of the post-Shifters were going to hell. But then, nothing, the tension was gone, with only the occasional obstacle being thrown at them to keep the plot moving.
I'm happy enough with the ending. It did resolve things, without leaving me wondering about anything. But then again, I don't know if that's a good thing. It didn't leave me feeling much of anything. I was more, just glad to be finished with it so that I could move on to something else. I'm finding that a problem more and more with these paranormal series that I started years back and never got around to finishing. Whatever spark drew me to them just isn't reigniting. And that's sad, because I have so many of them left on my shelf still to get to.
Recommended to:
Zachary and Aura fans. If you want more of their romance, you're sure to love this.