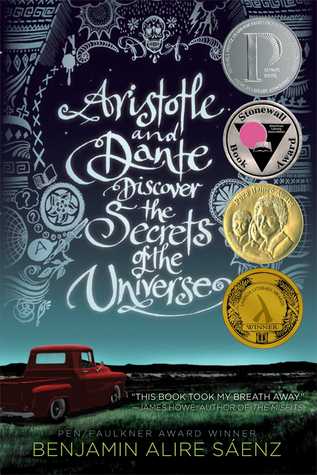 Title: Aristotle and Dante Discover the Secrets of the Universe
Author: Benjamin Alire Saenz
Published: April, 2014 by Simon & Schuster
Pages: 359
Rating:






Purchase: The Book Depository
Dante can swim. Ari can't. Dante is articulate and self-assured. Ari has a hard time with words and suffers from self-doubt. Dante gets lost in poetry and art. Ari gets lost in thoughts of his older brother who is in prison. Dante is fair skinned. Ari's features are much darker. It seems that a boy like Dante, with his open and unique perspective on life, would be the last person to break down the walls that Ari has built around himself.

But against all odds, when Ari and Dante meet, they develop a special bond that will teach them the most important truths of their lives, and help define the people they want to be. But there are big hurdles in their way, and only by believing in each other?and the power of their friendship?can Ari and Dante emerge stronger on the other side.
Final Thoughts:
This isn't your regular, fluffy romance full of swooning and kisses and happiness. It felt so much more real. There were a lot of sad moments, but the characters here just seemed to spark so much emotion. Watching Ari, a bit of angry loner, meet Dante, the boy with so much heart and charisma—it was such a journey. If you like something that's heavy on the drama, this is for you. The growth of their friendship, and of themselves, it really made the book something special. I never wanted to let it go.

It's quite hard to put into words just how well these characters were formed. Ari may have narrated the story, but he was by no means an open book. I felt like I was learning more and more about him as the book progressed. With a distant, war veteran father and an overprotective mother, I could feel Ari's desire to really unearth his own life. Having distanced himself from the world, the introduction of Dante, someone with his own quest to find himself, brought about a friendship that reminded me of what it's like to be young and lonely, and what it's like not to be.
It wasn't just about Ari and Dante, though, it was about their families too. Both Ari's mum and dad had their owns demons to face, yet their love for their son still managed to shine through the pages. I liked that about the parents in this book. Despite how different Ari and Dante's families were, at the core, they were both very loving. It was a good message to put out there, despite the mountain of obstacles that were thrown in the way of these boys.
Watching the pages slip away, seeing the raw emotion being torn from these characters, I struggled to key a dry eye reading this in public. Hoping beyond hope for a happy ending, yet seeing all of the pain, it wasn't the book I was expecting it to be, but it one I loved just the same.
Recommended to:
Those that can stomach a heavy helping of real emotions.