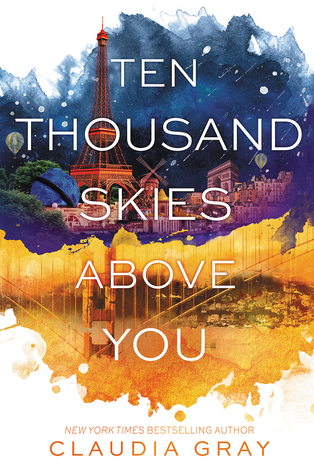 Title: Ten Thousand Skies Above You (Firebird #2)
Author: Claudia Gray
Published: November, 2015 by Harper Teen
Pages: 424
Rating:






Purchase: The Book Depository
Ever since she used the Firebird, her parents' invention, to cross into alternate dimensions, Marguerite has caught the attention of enemies who will do anything to force her into helping them dominate the multiverse—even hurting the people she loves. She resists until her boyfriend, Paul, is attacked and his consciousness scattered across multiple dimensions.

Marguerite has no choice but to search for each splinter of Paul's soul. The hunt sends her racing through a war-torn San Francisco, the criminal underworld of New York City, and a glittering Paris where another Marguerite hides a shocking secret. Each world brings Marguerite one step closer to rescuing Paul. But with each trial she faces, she begins to question the destiny she thought they shared.
Final Thoughts:
The covers are gorgeous. They're probably the best thing about this series. I'm two books in now, and I can't stand Marguerite. Her personality has just driven a wedge between me and this book. While I love all of the different worlds, the adventures we get to experience, and the overall conspiracy of the series going on around them, I just can't stomach any of this girl's rationalities for why she does the things she does. I mentioned last time that the romance got in the way of plot, but this time, Marguerite's obsession with her boyfriend IS the plot. If this were from anyone else's viewpoint, I probably could have loved this series, but with all of her ramblings of fate, and loving every version of this guy no matter what, it was a struggle.

This book did correct the problems I had in the first book with sticking around in one world for too long. I felt that here we got more of a variety throughout the book, taking the characters to worlds that were anything but easy to navigate. I appreciated all of the hoops that kept being thrown at them. They really sent me flipping through the book, finishing it within a day. I don't really want to go into any details on the different worlds because that's where I felt the fun came about, not knowing where they're going to land next.
With Marguerite's Paul out of the picture this time, we got to see a lot more of the Marguerite and Theo dynamic. With her friend crushing on her hard, though, and none of the feelings being reciprocated, sometimes this could be a bit tough to witness. I did like that she wasn't flip-flopping between her two guys, but it really felt like Theo was given the short end of the stick. I found it especially rude of her at one point where she thought the only reason another one of her selves would have dated Theo was if she hadn't met Paul yet in that world. Then again, maybe Theo was dodging a bullet on that one.
We did get to learn more about the evil organisation and the motives behind what they had been doing. I appreciated the progress that brought, and thought that if the book had more of a focus on that aspect, it could have been a lot more enjoyable. The way things are shaping up for the next book, I do have higher hopes, and even feel a little vindicated after all of the drama the Marguerite dragged us—and her other selves—through. I can't say that everyone will love these books, but I know that others have, so perhaps it's just my cynical side showing through. If you can put up with Marguerite's antics, you may really get into this.
Recommended to:
Those who enjoy stories about fate, love and a bit of SciFi.