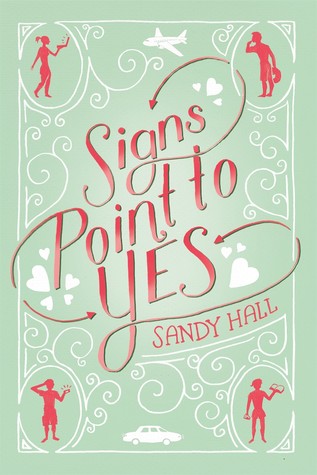 Title: Signs Point To Yes
Author: Sandy Hall
Published: October, 2015 by Swoon Reads
Pages: 288
Rating:






Purchase: The Book Depository
If only Jane's Magic 8 Ball could tell her how to get through the summer. With her "perfect" sister, Margo, home for her "perfect" internship, Jane is not going to be able to spend the summer writing fan fiction, as she had planned. And her emergency babysitting job requires Jane to spend the whole summer in awkward proximity to her new crush, Teo, a nerdy-hot lifeguard with problems of his own. With his best friend out of town, Teo finds himself without anyone to confide in…except Jane. Will Jane and Teo be able to salvage each other's summer? Even the Magic 8 Ball doesn't have an answer…but signs point to yes.
Final Thoughts:
Fluffy romance is what you'll find here. The stakes are low to point where pretty much nothing goes wrong for the main character, Jane. The romance, I'd say it's marshmallow (enough to bite into, but not a lot of substance), and the family drama, it doesn't go far beyond Jane and her mum arguing over what she'll do after high school. So if you're looking for a meaty contemporary to rage over your emotions, this isn't it. However, it is a quick little book to devour, have some mild fun with, and move on from.

In saying that, though, it's taken at least a week to getting around to this review. Perhaps it's the lack of excitement it left me with. It wasn't boring, corny, yes, but it kept me interested enough to fly through it. Told through three perspectives—Jane, her love interest, Teo, and her older sister, Margo—it felt like we were being taken on a ride we didn't need to go on. Margo's chapters were fairly pointless in the grand scheme of things, if only there to let us know she was struggling with her sexuality—which we also saw through Jane's perspectives anyway.
Teo. The boy down the street. The boy who just happens to be the older step-brother of the three nightmares—I mean, children—that Jane spends her summer babysitting. Cue undeniable attraction. These two must have each other. Cuteness overload. Okay, no. They were into each other, yes. Was I into them? No. I'm so fickle when it comes to romances now. I used to swoon over every guy that acted like a douche under the guise of being broody. Not so much anymore. While I wasn't on board with their romance suddenly blossoming, I can praise it for holding back on the kissing for a while. The awkwardness did amp up the cuteness to a degree.
It might have been the mystery of Teo's birth father that kept me going. Though, who knows? It was where all of the angst came from. With the alternating perspectives, we got to hear Teo whine about getting nowhere with his search, and get to see Jane snooping about her place of employment for birth certificates, photos, pretty much any and every invasion of privacy she could muster—but all in the name of helping her crush, of course. I was completely on board with Teo flipping out. With her resorting to her magic eight ball for all of her big, and a lot of small, decision making, Jane really liked to pass the buck on accountability. I guess that was the book's hook.
Still, like I said, there was very little that didn't go Jane's way, which left me feeling like Jane could have set the house on fire with the three kids in it and she'd still keep her babysitting job. It was just that kind of book. If you're not wanting to get wrenched apart, then you'd probably find this an alright kind of book to lose yourself in, but don't go into it expecting anything major.
Recommended to:
Fluffy, carefree romance fans.