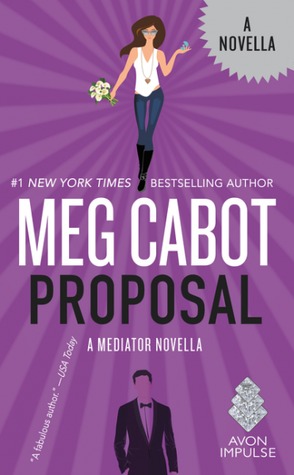 Title: Proposal (The Mediator #6.5)
Author: Meg Cabot
Published: January, 2016 by Avon
Pages: 97
Rating:






Purchase: The Book Depository
The last place Suze Simon expects to find herself during Valentine's Day is a cemetery. But that's what happens when you're a mediator – cursed with the "gift" of communicating with the dead.

That's how Suze has ended up at the graves of a pair of NCDPs – Non-Compliant Deceased Persons – whose drama didn't end with death. It's Suze's job to make sure they move on—for good.

But the NCDPs aren't the only ones with problems. The reason Suze is spending her Valentine's Day with the undead instead of her boyfriend, Jesse, is because he's having so much trouble adjusting to life after death . . . not surprising, considering the fact that he used to be an NCDP himself, and now his girlfriend busts his former kind for a living, while he tries to cure his kind of what used to ail him.

Can Suze use her mediating skills to propose a mutual resolution, and bring all these young lovers together – including Jesse and herself – especially on the night Saint Valentine declared sacred to romance?

Or will she end up alone—and possibly undead—herself?
Final Thoughts:
No longer in high school, Suze is now in her early twenties and living in a dorm. Being away from her family, we only learn of what's been happening in their lives through Suze's internal musing. Even Father Dominic, who had such a big presence in Suze's life throughout the series, is only mentioned in passing. While it was a short story, the other books were quite short as it was, so it didn't feel that different pacing-wise. The ghost plot actually got a bit more focus with the lack of supporting characters. Still, there was Jesse, no longer dead, apparently succeeding in life, and with his old-school beliefs, driving Suze crazy.

Sexually frustrated is probably a better way of describing it. It's pretty clear that Suze just wants to hurry up and have sex. She lets us know over and over, and over that Jesse has an erection when she's up close with him. I mean, really, did we need to know that? Once would have been enough. Reading some of the things Suze said, I felt like she was forty-something at times instead of the college student she was supposed to be. The story was fun, but moments like these just drew me out of it and made it laugh at why she was saying these things:
It was possible that he and his "friend group"—that's what they called them now, instead of cliques—had gone to the movies or something.
And:
I was too emotional to say anything. I was experiencing many "feels" as the kids on Tumblr—my computer-savvy friend CeeCee has told me about it—often say.
Despite those moments, I really enjoyed this novella as a snapshot of what Suze's life had become. The ghost story, while brief, showed us what Suze does best, getting herself into danger by pissing off ghosts, and tricking people into spilling their secrets. Oh, Suze, she's a blast. I can't wait for what Remembrance will bring.
Recommended to:
Fans of the original series.