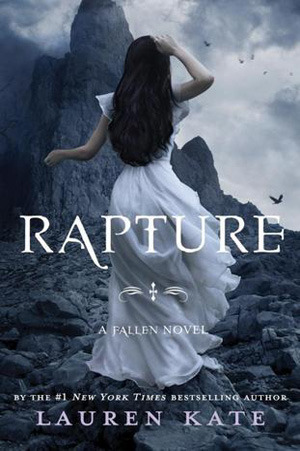 Title: Rapture (Fallen #4)
Author: Lauren Kate
Published: June, 2012 by Delacorte Press
Pages: 448
Rating:






Purchase: The Book Depository
The sky is dark with wings….

Like sand through an hourglass, time is running out for Luce and Daniel. To stop Lucifer from erasing the past, they must find the place where the angels fell to earth.

Dark forces are after them, and Daniel doesn't know if he can do this — live only to lose Luce again and again. Yet together they face an epic battle that will end with lifeless bodies…and angel dust. Great sacrifices are made. Hearts are destroyed.

And suddenly Luce knows what must happen. For she was meant to be with someone other than Daniel. The curse they've borne has always and only been about her — and the love she cast aside. The choice she makes now is the only one that truly matters.

In the fight for Luce, who will win?
Final Thoughts:
There was so much wrong with this book. I don't think I've hated reading something so much in my life. The characters went nowhere—yes, they flew across the world using Daniel's mighty angel wings—but their personalities just felt flat. Luce was so overdramatic, practically unable to function whenever anybody was injured or died, regardless of whether she'd just met them a few pages ago. I guess it was meant to make her seem compassionate, but it just felt hollow. And the plot holes—oh, the plot holes. I was immensely angry at this book whenever something just didn't make sense. There were so many moments where it was like, 'Forget we're all here, only Luce can do this…'.

With over four hundred pages, this book just dragged on and on. A lot of what happened felt like filler, especially with all that the book amounted to. A great chunk of the book was just Luce and Daniel and a bunch of random angels, Outcasts, Scale, and other weirdly named angel-variants traipsing around Europe looking for three relics to reveal the spot where the Lucifer's recreation of the Fall would land. Apparently Daniel had written a book telling them all they needed to know years ago, but he's since forgotten what he wrote. Yeah, crap like that happens frequently.
With only nine days to stop Lucifer, they seem to waste a lot of time doing random things I didn't care to take note of. None of it really mattered in the end, in fact, I felt like I'd wasted weeks of reading time stuck on this book. At one point, Daniel told Luce that she could simply will herself to overcome mortal limitations anytime she wants. So she wills herself to stay alive. It made any danger she was put in pointless. For instance, when she's being choked, she just goes on like nothing was happening. WHY?
There were so many ridiculously quotable lines that I spent more time messaging them to a friend, discussing how much I was not enjoying this, finding that a better use of my time than reading the book. I've compiled quite a few of them:
Her eyes felt swollen and exhausted, and Daniel's shirt was soaked with her tears, like she'd baptised him with her sorrow
Suddenly, she realised that this was the very first time she and Daniel had met on earth. This was the moment she'd been begging for, the moment Daniel would never talk about. Neither recognised the other. They were already, instantly, in love.
Luce had once loved to solve complex calculus proofs.
We belong to each other. Daniel is my everything.
He let her cry. Held her close. He whispered, "You're so brave."
"Luce." Nora squinted. "When I run out of underwear, I buy new underwear. I am hoping to make it to thanksgiving without having to do laundry. Are you ready? Soccer boys are waiting, hoping to score. We are their goal, but we must remind them they can't use their hands."
Sunset was the time you wore things you'd washed and dried.
What happens in pajamas stays in pajamas.
If it weren't for the plot holes, the annoying characters and the slow, boring plot, I probably could have enjoyed this book a bit more. I just felt so frustrated at all of the situations Luce had to face on her own for no other reason than 'because'. The explanations for the whole plot of the series weren't that great either, especially considering how many people had to die. I yelled, I rolled my eyes, I slammed the book shut. Luce and Daniel, they're certainly not a pairing I would root for.
Recommended to: Anyone who feels the need to finish the series. If not, I'd probably skip it.