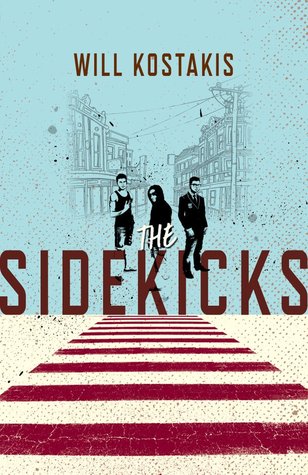 Title: The Sidekicks
Author: Will Kostakis
Published: February, 2016 by Penguin
Pages: 256
Rating:






Purchase: Booktopia
The Swimmer. The Rebel. The Nerd.

All Ryan, Harley and Miles had in common was Isaac. They lived different lives, had different interests and kept different secrets. But they shared the same best friend. They were sidekicks. And now that Isaac's gone, what does that make them?

Will Kostakis, award-winning author of The First Third, perfectly depicts the pain and pleasure of this teenage world, piecing together three points of view with intricate splendour.
Final Thoughts:
Divided into thirds, each one housed a different perspective of the remaining friends of Isaac, showing us how they coped with life as a teenager after his sudden death. Without having seen the four of them together, initially it was hard picturing how they'd been friends. Although, it was pointed out a few times that they weren't—that the three of them merely orbited Isaac, getting along with the others merely a part of being in Isaac's life. And with him gone, their quasi-friend group quickly fell apart. I think seeing that happen felt quite realistic. Pretty much all of it did. Reading Sidekicks took me back to what is was like being young and insecure, making the wrong decisions but feeling like there were no other ones to make.

Ryan, lead the first part of the book, avoiding unnecessary carbs, doing laps of the pool, popping in and out of the staff room/office of his teacher-mother, and stressing out over how he would (or whether he could) come out to her, or anyone. Seeing these fears unfurl inside his head, it was easy to relate to, especially when it came to worrying about things like being known as the gay one. Still, I felt like Ryan pigeonholed himself (or his image of himself) just as much as a swimmer, the Olympic hopeful, trying to distract others in a bid to get through high school with his non-conforming sexuality unnoticed.
The middle chunk of the book shifted away from that plot, following Harley. Always seeming to get into trouble, he loved to have fun—whether that was with drugs, alcohol or mischief. His perspective revealed quite a bit as to what went down in the lead up to Isaac's death. Struggling with his feelings of guilt, he spends time hiding away at his dad's place. I actually really came to enjoy this section of the book. Harley's character was pretty much gone during the Ryan block, so seeing what went down in that period really opened up the story. And in fact, it felt like he was becoming the glue trying to stick their friendships together.
Miles rounded out the remainder of the book, his thoughts spilling out in script format—and without contractions. A little weird, but I got used to it. Caught up in his own mind, wondering whether Isaac was ever really his friend, Miles felt disconnected from the world. He seemed particularly lonely, spending a lot of time reminiscing over previous experiences he and Isaac had been through. Miles wasn't exactly my favourite character, but I still enjoyed what he brought to the story.
Drawing their three arcs together, the book gradually weaved together their lives, showing each of the guys the different sides of themselves. It was here that the book excelled. With no singular plot to follow, their roads back to becoming friends each had their ups and downs, managing to find something different to focus on and keep you interested. I really liked how the book took the time to focus on the grief experienced by Isaac's family as well, finding one of the scenes with his mother to be the most touching aspect of the book. Being such a quick read with only two hundred and something pages, I did feel a little short changed at times, but it did leave me content with the end result.
Recommended to:
Anyone after a new contemporary to take on. A quick and immersive read.