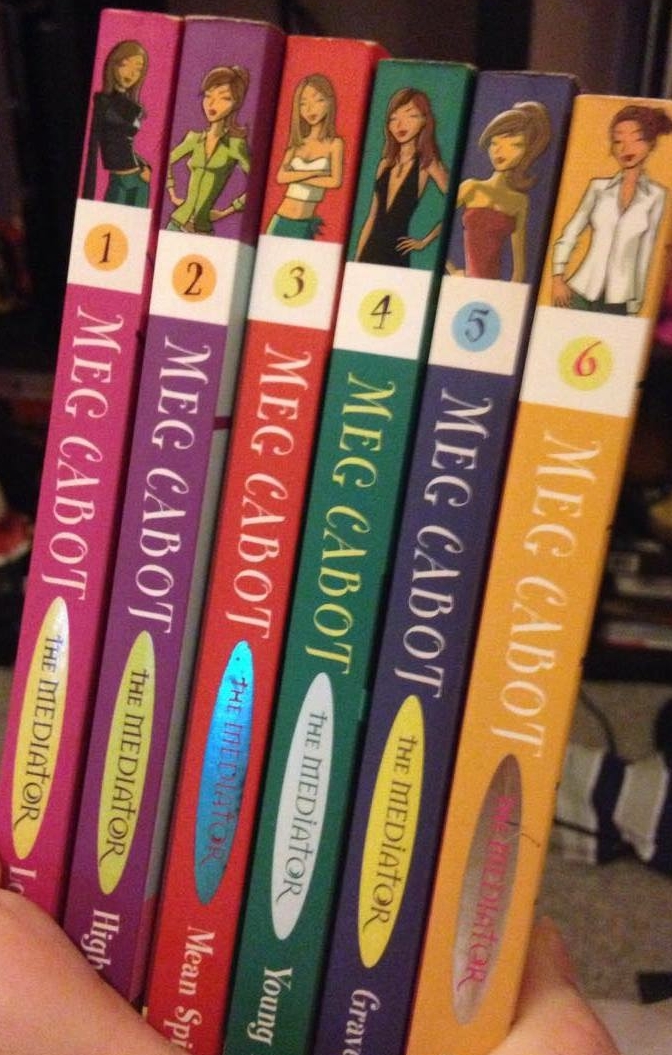 Series: The Mediator
Author: Meg Cabot
Published: 2000-2006 by Avon/Macmillan Children's Books
Pages: approx. 200 per book
Rating:






Purchase: The Book Depository
Being a mediator doesn't exactly make Susannah Simon your typical sixteen-year-old. Her job is to ease the path for the unhappy dead to their final resting place. She finds her skills tested to the maximum. But can this girl get her ghost?
Final Thoughts:
You can tell from reading these that ghost-mediator, Suze, was pretty much the queen of sass for early 2000s YA. Never lost for words, she tells it how it is, throwing around attitude on anyone that gets in her way. I loved her for this. However, when it came to her romantic endeavours, she had a more than questionable string of duds. It seemed like whenever a new bad guy popped up on the scene, Suze would find him and end up going on a date. It helped get her tangled up in the plot, but I had to wonder what she was thinking at times.

Coming into this series for the first time now, it was amusing to see just how many 90s pop culture references were in the early books. It dates the series, but in a fun way. Suze, without a mobile phone, is left to take calls on the household landline, constantly making use of her call waiting to get herself out of tricky conversations. I think I loved her just for that at times. Still, with all of her confidence she threw about, she did have the occasional moment of low self-esteem. At times she would mention how 'warm for her form' people were, then at others, she'd lament over how her ghostly extra-curriculars left her known as the weirdo that no one wanted to kiss.
When she wasn't worrying about her lack of a love life, the books took on a 'ghost of the week' plot, with Suze and her new Principal (also a Mediator) trying to solve whatever issues they had. Usually it involved a murder or some other suspicious death. Some of the ghosts were a little blah, others frustrated me to no end, while a couple of them had me hooked. The series was really up and down in that regard. Without the nostalgia factor, this series probably doesn't have as much an effect on me as those who grew up it.
The Jesse plot was worth sticking around for, though. A centuries old ghost, living in her bedroom, Jesse was a gentleman. Despite Suze and her revolving door of bad boys, Jesse was a constant throughout the series. Like her Principal, he gave Suze someone to fall back on and discus things with—and someone to lust after. Suze mentions how warm she is for Jesse's form quite a bit. Forgetting the romance for second, though, Jesse's presence did help give a different view of ghosts, showing us one that wasn't hell bent on avenging themselves every time they appeared on the page.
While less than a year passes across the span of the six books, I still felt as if the characters grew from where they started. Suze was an only child in the beginning, thrust into a new family, gaining three stepbrothers she could barely remember to call by their real names. Seeing that dynamic change made me feel more connected to them, as did the mentor/friendship Suze developed with Father Dominic, her Principal. The characters really seemed more important than any of the plots going on. Well, except for the Jesse plots. I thought they were another point where the series excelled. Sure, I was frustrated at points, wishing bad things to fall upon certain evil characters, but I was glad that these books could grab me enough and make me care. There's nothing worse than feeling disconnected from what you're reading, and with The Mediator series, I certainly didn't.
Recommended to:
Those after a journey back a decade or so to see what pre-Twilight craze paranormal YA used to be like.