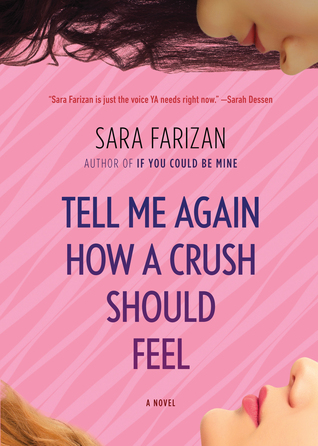 Title: Tell Me Again How A Crush Should Feel
Author: Sara Farizan
Published: October, 2014 by Algonquin Books
Pages: 304
Rating:






Purchase: The Book Depository
Leila has made it most of the way through Armstead Academy without having a crush on anyone, which is something of a relief. As an Iranian American, she's different enough; if word got out that she liked girls, life would be twice as hard. But when beautiful new girl Saskia shows up, Leila starts to take risks she never thought she would, especially when it looks as if the attraction between them is mutual.

Struggling to sort out her growing feelings and Saskia's confusing signals, Leila confides in her old friend, Lisa, and grows closer to her fellow drama tech-crew members, especially Tomas, whose comments about his own sexuality are frank, funny, wise, and sometimes painful. Gradually, Leila begins to see that almost all her classmates are more complicated than they first appear to be, and many are keeping fascinating secrets of their own.
Final Thoughts:
Having just had to put another book aside, I was so glad to find this one so devour-able. With my lunch breaks stretching longer and longer, I found it quite hard to put this one down and get back to work. Leila's story drew me in and really got me feeling like I was back at high school again, worried about when or how to come out. It really is a coming out story, but I liked that Leila knew she was gay and had already had a fling with another girl before the start of the book. That left the book for a different kind of angst and plenty of time to focus on the struggles and triumphs of relationships.

I wasn't totally on board with the 'new girl at school' plot, having this girl 'Saskia' as the beautiful and mysterious one, set to turn Leila's world upside down. Thankfully, that wasn't the only thing going on. Rather, we saw more of Leila's family life—with her old world parents not only expecting her to be straight, but to grow up to be a doctor like both her dad and her 'perfect older sister', pressuring her over her lacking school grades. Doing well at school was far from her mind.
The angst of her high school friends took up more of a foothold in her life. Rather than simply being caught in a love triangle, it was more like everyone was involved in everyone's lives, everyone interconnected with feelings for someone just out of their reach. With all of these pre-established, but separate friendships, it was really good to see Leila's life from different angles. Some characters did get a bit more focus than others, but as the turmoil in Leila's life unfolded, where you really wanted to be was with Leila.
Unfortunately, Saskia tended to come along with her. She was one character I just couldn't seem to connect with. She could be pushy and patronizing, and sometimes even mean, so seeing Leila swoon with her blinders on, I just wanted to wave her down and talk some sense into her. But like I said earlier, there's more to this book than Saskia. There are plenty of moments that really make you smile—or want to reach into the book and hug them.
I appreciated the inclusion of adults in Leila's life throughout the book. Not only does she have her parents to contend with, but we get to see a few teachers—who actually have lives. I think that added another layer to the world we were in. One teacher in particularly made an effort in helping Leila out, which I thought was a nice touch. Even Leila mentions that everyone should have a teacher like this one. I think it's just a really heart-warming, albeit, angsty little book.
Recommended to:
Fans of contemporaries, especially people who've enjoyed Will Kostakis' work.