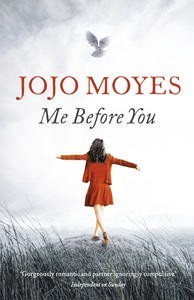 Title: Me Before You (Me Before You #1)
Author: Jojo Moyes
Published: January, 2012 by Penguin
Pages: 480
Rating:






Purchase: The Book Depository
Lou Clark knows lots of things. She knows how many footsteps there are between the bus stop and home. She knows she likes working in The Buttered Bun tea shop and she knows she might not love her boyfriend Patrick.

What Lou doesn't know is she's about to lose her job or that knowing what's coming is what keeps her sane.

Will Traynor knows his motorcycle accident took away his desire to live. He knows everything feels very small and rather joyless now and he knows exactly how he's going to put a stop to that.

What Will doesn't know is that Lou is about to burst into his world in a riot of colour. And neither of them knows they're going to change the other for all time.
Final Thoughts:
Such an engrossing story—and it all comes down to the characters. I felt so involved with them. Not just main characters, Lou and Will, but their family members as well. With almost five hundred pages spent with them, I well and truly felt as if I'd become a part of their lives. So much seems to take place, the personal growth really surprising me. I loved it for that. There were struggles and struggles, and more struggles, whenever something good happened I think I appreciated it all that bit more never knowing how long it would last.

Living at home with her financially struggling parents, her younger sister, her sister's toddler, and her granddad, Lou's house was more than a bit squashy. I think because of that, her family really felt like such a big part of her life. Particularly since nearing thirty, she still hadn't left home. I guess that made her feel younger than she was, in a way. Having just lost her job at a local cafe, with little in the way of prospects, I was surprised to find her land the carer's job looking after Will. It came a bit out of left field, but it got the plot moving. And we finally got to meet Will. I loved this guy. His cold, abrasive personality had me hooked. He had more than enough of a reason to act the way he did, but I loved experiencing their dynamic as it started to change and a friendship began to blossom.
The romance was there long before the characters had realised it themselves. With cute scenes, funny scenes, and even hard scenes, it was impossible not to feel. The subject matter revealed part way through did heighten that emotional pull, though, adding a level of tension to the book. What was already a pretty addictive read became almost a race to resolve. I wanted to get to the end, but I also didn't want to leave these characters behind. I held on to my emotions for the most part, but like others, I found myself with tears balling up. But those are the best kinds of reads.
Recommended to:
Anyone wanting an emotional, but funny, coming of age story to devour.