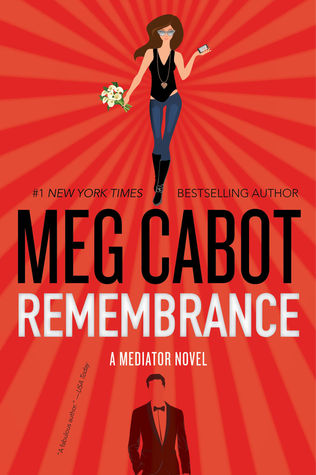 Title: Remembrance (The Mediator #7)
Author: Meg Cabot
Published: February, 2016 by William Morrow
Pages: 388
Rating:






Purchase: The Book Depository
You can take the boy out of the darkness.
But you can't take the darkness out of the boy.

All Susannah Simon wants is to make a good impression at her first job since graduating from college (and since becoming engaged to Dr. Jesse de Silva). But when she's hired as a guidance counselor at her alma mater, she stumbles across a decade-old murder, and soon ancient history isn't all that's coming back to haunt her. Old ghosts as well as new ones are coming out of the woodwork, some to test her, some to vex her, and it isn't only because she's a mediator, gifted with second sight.

What happens when old ghosts come back to haunt you?
If you're a mediator, you might have to kick a little ass.

From a sophomore haunted by the murderous specter of a child to ghosts of a very different kind—including Paul Slater, Suze's ex, who shows up to make a bargain Suze is certain must have come from the Devil himself—Suze isn't sure she'll make it through the semester, let alone to her wedding night. Suze is used to striking first and asking questions later. But what happens when ghosts from her past—including one she found nearly impossible to resist—strike first?
Final Thoughts:
Having only just read the original series for the first time, I didn't go into this with the nostalgia glasses on so I felt like some of the things that irked me were harder to overlook. Suze was the main culprit. With her now in her mid-twenties, I just couldn't get over how immature she came across. And Paul, the main villain of series, he's back, and trying to force his way into Suze's pants again. Ugh. I thought this plot had been wrapped up, albeit hurriedly, in the previous book. But no, this angst pretty much drove the book. Chapters and chapters of Suze hiding things from Jesse, all the while, wondering why he wouldn't give up his pre-marital chastity vow and sleep with her already.

Suze was basically the same person she was in the previous six books, except hornier. While keeping the headspace the same can be good if you're trying to recapture what worked, but for me, it just made her seem out of place, especially when she was supposed to be counselling teenagers. Her level of maturity just didn't seem right for that kind of work. I really struggled to get through the first three quarters of this book just because of the Suze-Paul-Jesse nonsense overshadowing the mediator plot trying to find its footing in the background.
However, I did find that once things finally got moving, the book did become a lot easier to get through. The ghost plot felt like it had a bit more meat to it than some of the earlier books in the series, but it seemed like the resolution came way too soon after the big reveal. It was like it had just been shoved out of the way in favour of throwing Suze back into the Paul/Jesse angst. Perhaps if Paul had been more likable it might have been easier to stomach, but he was such a horrible character that you just wanted him gone, or at least for Suze to screw him over. But then again, Suze was no angel herself. She seemed to treat Jesse like crap, keeping him in the dark and then trying to worm her way out whenever her schemes were discovered. And Jesse being Jesse, he would just forgive her.
This annoyed me.
But if you're here for the nostalgia, you're probably going to overlook things like that and enjoy it. There are plenty of nods to the most of the characters from the YA series, updating us on what's become of their lives. I liked these moments—except for Paul—but in particular, those with the Kelly and Debbie, the girls Suze wasn't all that friendly with in high school. The bitchiness was there, but it was a bit more restrained. Putting aside my dislike for Suze and a lot of the things she got up tp, I still found the book okay. It's by no means a favourite, but if you enjoyed the series, I wouldn't want to stop you from reading this…just remember to read the novella, Proposal first.
Recommended to:
Fans of the Suze/Paul/Jesse drama.