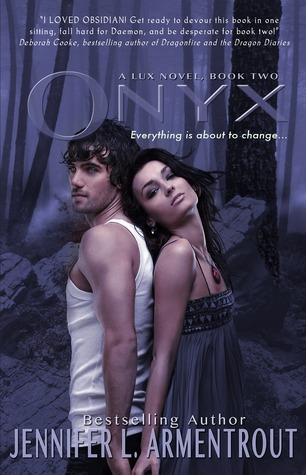 Title: Onyx (Lux #2)
Author: Jennifer L. Armentrout
Published: June, 2012 by Entangled Publishing
Pages: 366
Rating:






Purchase: The Book Depository
Being connected to Daemon Black sucks…

Thanks to his alien mojo, Daemon's determined to prove what he feels for me is more than a product of our bizarro connection. So I've sworn him off, even though he's running more hot than cold these days. But we've got bigger problems.

Something worse than the Arum has come to town…

The Department of Defense are here. If they ever find out what Daemon can do and that we're linked, I'm a goner. So is he. And there's this new boy in school who's got a secret of his own. He knows what's happened to me and he can help, but to do so, I have to lie to Daemon and stay away from him. Like that's possible. Against all common sense, I'm falling for Daemon. Hard.

But then everything changes…

I've seen someone who shouldn't be alive. And I have to tell Daemon, even though I know he's never going to stop searching until he gets the truth. What happened to his brother? Who betrayed him? And what does the DOD want from them—from me?

No one is who they seem. And not everyone will survive the lies…
Final Thoughts:
Having taken a four-and-a-half-year gap between Obsidian and Onyx, I went into this a little worried, but having just closed the book, I don't think that hindered my enjoyment of this one. While it did take me a little longer to get back into the sexy alien mindset, once I got there, I was back! It did take me around 10 days of lunchbreak reading to finish this one, but it was by no means a bore. I found the Katy and Daemon angst brought a grin to my face, especially adding in all of the alien/government drama. It brings back memories of Roswell, yet managing to do its own thing. I have no doubt I'll be continuing this series, with the rest of the books on their way to me now.

If there were flaws to pick at, I'd have to call out Katy on her self-preservation antics. At one point I'd dropped the book, so enraged at her for not telling anyone else what was going on. DANGER just didn't register for her, or if it did, she ignored it in hopes of not upsetting Daemon's fragile temper. For God's sake, Katy, think of yourself for once. Okay, that aside, Katy did seem to grow throughout this book. Going through her owns series of training, she attempts to get stronger to protect the Black siblings, or at least hold her own. I appreciated the slow burn here, not just making her Captain Amazing from the get go.
There's a bit of high school drama rounding things out in the first half of the book as we're introduced with a new love interest for Katy. I wasn't particularly into this. We already had Daemon, why did we need someone else? With all of their sexual tension, it felt strange watching Katy go on dates with the other guy, using him like a test subject to check whether her attraction to Daemon was more than just an alien hoodoo drawing them together. Still, it's much better than the obsessive insta-love that we could have been force fed. I think the flirting and Daemon's antics trying win Katy over won me over too.
The arrival of the Department of Defence, and all of their black Expeditions (which I'd never heard of, but got the gist) popping up on the roads, things felt a bit more serious. With government agents stalking them, the motives unclear, I felt my intrigue rising. While the first book had the Arum—another species of alien—hunting them, I think a human threat was more sinister. It still feels like we're in the setup period of the series, but Onyx was a big step towards some bigger. The hook really latched onto me with those final few chapters, leaving me wondering how safe any of these characters really are.
Recommended to:
Roswell fans. Full of snark, swoon and sex-laden aliens, these guys have to deal with a heavy-handed government agency not exactly there to make friends with them.