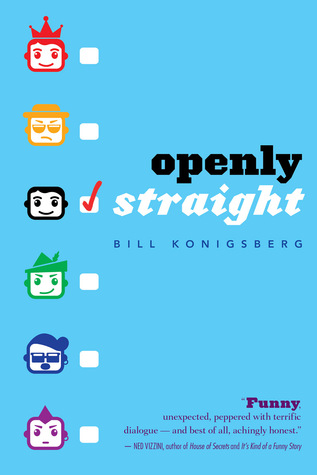 Title: Openly Straight (Openly Straight #1)
Author: Bill Konigsberg
Published: May, 2013 by Arthur A. Levine Books
Pages: 320
Rating:






Purchase: The Book Depository
Rafe is a normal teenager from Boulder, Colorado. He plays soccer. He's won skiing prizes. He likes to write.

And, oh yeah, he's gay. He's been out since 8th grade, and he isn't teased, and he goes to other high schools and talks about tolerance and stuff. And while that's important, all Rafe really wants is to just be a regular guy. Not that GAY guy. To have it be a part of who he is, but not the headline, every single time.

So when he transfers to an all-boys' boarding school in New England, he decides to keep his sexuality a secret — not so much going back in the closet as starting over with a clean slate. But then he sees a classmate break down. He meets a teacher who challenges him to write his story. And most of all, he falls in love with Ben . . . who doesn't even know that love is possible.

This witty, smart, coming-out-again story will appeal to gay and straight kids alike as they watch Rafe navigate feeling different, fitting in, and what it means to be himself.
Final Thoughts:
Stumbling through the first chapter, I worried I wouldn't be able to get into yet another boarding school story. I was wrong. I could barely put it down. Opening Straight had me fidgeting back and forth, trying to find a comfortable position to read in bed, long past midnight. The premise of going back into the closet, or even just trying to change people's perception of you, was one quite easy to connect with. While the main character, Rafe's, being gay (and hiding it) was a big part of the story, it wasn't that big of a leap to extrapolate his situation into pretty much anyone having moved and wanting to reinvent themselves.

Told through two different narratives from the same character, we got to see what was happening in the present and also learn more of Rafe's past through a series of journal entries to his teacher. Those seemed a little weird to me, like a line was being crossed on the teacher's part, asking each of his students to write him what was effectively a diary of their innermost thoughts—especially when the teacher would give feedback on them. Still, it gave us a chance to find out how Rafe came to be where he was now. I did feel little short changed though. At one point it seemed like the story in the present had become too interesting and the extra entries had been forgotten. I would have preferred a bit more closure in that regard.
However, the warm and fuzzies I got while reading this did make up for most of that. It takes you on such a journey, getting to know the characters, watching their friendships grow, others struggle, all the while throwing in humour and quite a bit of philosophical thinking. At times, I did feel like the sport scenes were a bit too detailed for my interest, or went on too long, but that's because I have no interest in sport. I could appreciate those scenes for the team bonding/teardowns, but reading about how to play softball, no thanks.
For those wanting a romance, and a gay one, at that, rest assured it's all here, and part of why I loved the book. Definitely a slow burn, but more than worth it. However, it's really about Rafe's growth and him getting to know himself. His view of the world feels so different at each end of the book, and in a way, I feel like mine does too. A lot of what goes through his head really opens your eyes. I wanted to keep reading and reading and reading, but at the same time didn't want to finish this. It appears a sequel is coming, so turning the final page on this one wasn't quite as bittersweet as it otherwise would have been.
Recommended to:
Fans of contemporaries that you can lose yourself in.