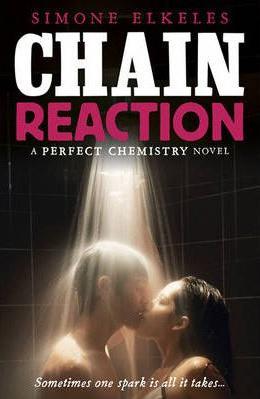 Title: Chain Reaction (Perfect Chemistry #3)
Author: Simone Elkeles
Published: August, 2011 by Simon & Schuster
Pages: 308
Rating:






Purchase: The Book Depository
Luis Fuentes is a good boy who doesn't live with the angst that his big brothers, Alex and Carlos, have always lived with. Luis is smart, funny, and has big dreams of becoming an astronaut. But when he falls for the wrong girl,

Luis enters a dark world he's never known, and just when he thinks he's got life all figured out, learns some disturbing news about his family that destroys his positive outlook on life. Will that Fuentes bad boy streak come out with a vengeance and lure Luis to live on the edge like his new girlfriend and his own father?
Final Thoughts:
The spark seemed to have left with this one. It wasn't boring, but it just felt like more of the same. I didn't get all that invested with these characters as much as I did with Alex and Brittany or Carlos and Kiara. They just didn't seem well rounded this time. Aside from the pregnancy scare, Nikki didn't have much else going on in her life, and for Luis, it all led back to the gang stuff for him. I still enjoyed Chain Reaction, but found it much harder to find time to read it. I just didn't have that pull making me want to pick it up.

Set back in Fairfield, it was as if it was trying to recapture the essence of the first book. We were even returned to Mrs Peterson's chemistry class, getting to see her love of giving out detention slips again. Initially, I thought this would be up my alley, seeing the story unfold told from a different perspective with straight-laced, Luis, at the helm. Unfortunately, he started to slide back into the Fuentes ways and morphing into the bad boy persona his brothers had already shown us. As soon as the gang stuff became the main focus, mine started to drift. I think it's just that it felt so resolved in the other books that dredging it back up seemed cumbersome. I wanted to fall in love with the romance, but I don't think these characters got the chance to show us enough to make that happen.
I can barely remember enough about Nikki, she was that unmemorable comparatively. I do remember her having a brother, but it was like he was there one minute, and then never seen again. She could have been an only child and it wouldn't have made much of a difference to the story. Her parents were quite similar. We learned that they were Mexican born, but Nikki was raised without the cultural upbringing, but it was pretty much left at that.
We do get some more cameos from past main characters, so if you're looking for some extra closure on where they're at you will probably enjoy this for that. I found the current day updates throughout the books more interesting than the epilogues set twenty years in the future. The one at the of this book had to be the weirdest of the three, introducing new characters with only one or two pages to go. I got that it made us feel like their stories will keep repeating no matter how many years pass, but that's not necessarily a good thing. It seemed like none of the brothers learned anything from the others' mistakes—that they all had to make their own ones before they could grow up.
Having finished the series now, I have some fond memories, though not of this book. I'd recommend reading it just for the closure it brings. There are some revelations that make things a bit clearer, but I probably could have read a plot summary and been happy enough. I'm just a little disappointed that it couldn't go out a high. I love a good romance, but this one left me wondering if I could have spent the past couple weeks reading something else, savouring my memories of the first two books.