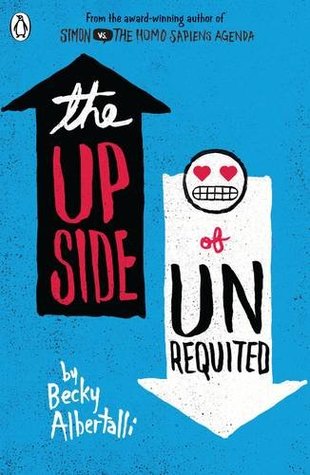 Title: The Upside Of Unrequited
Author: Becky Albertalli
Published: April, 2017 Penguin
Pages: 340
Rating:






Purchase: The Book Depository
Seventeen-year-old Molly Peskin-Suso knows all about unrequited love-she's lived through it twenty-six times. She crushes hard and crushes often, but always in secret. Because no matter how many times her twin sister, Cassie, tells her to woman up, Molly can't stomach the idea of rejection. So she's careful. Fat girls always have to be careful. Then a cute new girl enters Cassie's orbit, and for the first time ever, Molly's cynical twin is a lovesick mess.

Meanwhile, Molly's totally not dying of loneliness-except for the part where she is. Luckily, Cassie's new girlfriend comes with a cute hipster-boy sidekick. Will is funny, flirtatious, and just might be perfect crush material. Maybe more than crush material. And if Molly can win him over, she'll get her first kiss and she'll get her twin back. There's only one problem: Molly's coworker, Reid. He's an awkward Tolkien superfan, and there's absolutely no way Molly could fall for him. Right?
Final Thoughts:
Oh my…gah—why does it have to be over? Though honestly, I felt like it ended perfectly. I lived for these characters. Reading well into the early hours of the morning, I forwent sleep in favour of some extra time with Molly and her family and friends. Randomly bursting out laughing, I felt like this was exactly the book for me. Suffering from anxiety, a lot of the struggles were in her head, which I found immensely relatable. I really appreciated finding a book like this. I just clicked with her from the get go and got so absorbed in her world.

Molly has a long list of crushes, but they've never gone further than that. She worries quite a bit about what others think of her weight, especially having a thinner twin sister, Cassie, for people to compare her to. Never making a move, she denies herself the chance at something, safeguarding herself from that fear of rejection sitting in the back of her mind. I think a lot of people can relate to that, whatever their insecurities may be. Stepping out of your shell can be hard. Like Molly, sometimes you just want to sit at home, watch Netflix and not worry about the rest of the world.
But not always. Sometimes you just want a boyfriend. And that's okay too.
The inclusiveness in this story was heart-warming to see. Gay characters, straight characters, douchey ones, nice ones, parents—real parents, ones who talk and actually have an input in their children's lives. Patty and Nadine were fun, and switched on. It's so hard reading books where the parents have no idea what their kids are up to. Here they were fleshed out, spending time with their kids, reprimanding and supporting them, and even given their own subplot. On top of that, the girls' extended family even get their own issues, and make a few appearances. It all just feels like you're stepping into something real—and I loved that.
While Molly and her long list of crushes are at the forefront, we also got to meet her sister, Cassie, and watch her blossoming relationship with her new girlfriend, Mina. So much LGBT love in this book. It's great that these kinds of books are just becoming the norm. When I got into blogging six years ago, I was hard pressed to find anything more than a gay best friend for the popular white girl in any of the books I came across. Here, I just wanted to hug the book and thank it for existing. Mina and Cassie, and all of the pairings in this book were great—Evan Schulmeister withstanding.
The love triangle—oh yes, there is one—wasn't bad. Reid and Will were both nice guys—plus if you've read any kind of book before, there's a clear winner. And with Molly being the loveable Molly that she was, she wasn't all over the place, trying to figure things out. Stuck in her head, we got to feel all of the tension and squee-worthy moments along with her, urging the fates (and Becky) to allow things to work out for her. I wasn't too stressed though. This is definitely a feel-good book.
Recommended to:
Anyone after a contemporary romance that really makes you feel for the characters—or just a book you don't want to end.