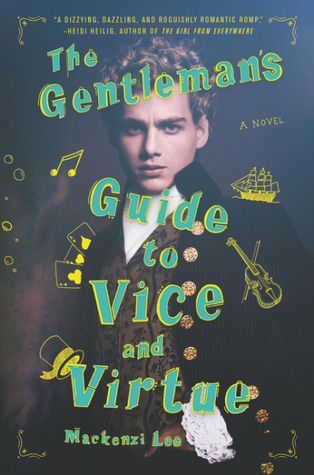 Title: The Gentleman's Guide to Vice and Virtue
Author: Mackenzi Lee
Published: June, 2017 by Katherine Tegen Books
Pages: 513
Rating:






Purchase: The Book Depository
Henry "Monty" Montague was born and bred to be a gentleman, but he was never one to be tamed. The finest boarding schools in England and the constant disapproval of his father haven't been able to curb any of his roguish passions—not for gambling halls, late nights spent with a bottle of spirits, or waking up in the arms of women or men.

But as Monty embarks on his Grand Tour of Europe, his quest for a life filled with pleasure and vice is in danger of coming to an end. Not only does his father expect him to take over the family's estate upon his return, but Monty is also nursing an impossible crush on his best friend and traveling companion, Percy.

Still it isn't in Monty's nature to give up. Even with his younger sister, Felicity, in tow, he vows to make this yearlong escapade one last hedonistic hurrah and flirt with Percy from Paris to Rome. But when one of Monty's reckless decisions turns their trip abroad into a harrowing manhunt that spans across Europe, it calls into question everything he knows, including his relationship with the boy he adores.
Final Thoughts:
It's strange thinking back on this one. I loved it to an extent, but I didn't fall in love with it. Perhaps it's the time it took me to finish it. I wanted to read it all the time, but I kept procrastinating each time I went to pick it up. Still, once I did, I'd find myself lost in the pages. Monty was a riot. He's one of those protagonists that just amuses you from start to finish. His personality reminds me of all of the snark and quick witted humour filled books that hooked me on YA six or seven years ago. Except this one, it was set in the 1700s. Though don't let that keep you away—anything but stale, many of the phrases turned read as though they're in a contemporary.

With it made clear from the beginning that Monty, born Henry Montague, enjoyed the pleasure of entertaining both sexes, though he spends time recalling many a romp with plenty of lads, I was on board. His abusive, upper crust father didn't quite feel the same. Setting off on a European tour (with a nifty map of pitstops included in the front of the book for reference), I wasn't quite sure where the plot was headed. With unrequited love on the cards, a chaperone set to ensure no fun happened, and a younger sister much wiser than Monty tagging along, it was all a bit of question as to whether I'd be able to make it through the five hundred pages without wanting it to be over already, but somehow, it managed to scrape through.
As their tour got hijacked by plot, and a whole lot of it, I wanted to spend more and more time with these characters. Traipsing about a host of foreign countries in an effort to resolve the ever-increasing amount of trouble they kept finding themselves in, they became embroiled with thieves, manipulators, and some sort of-friendly pirates. Watching Monty flirt and grandstand his way out of tricky situations kept me grinning, but more than that, I enjoyed how much his younger sister got the chance to show her strength.
Sure, Felicity could keep up with the banter being thrown about, even putting others in their place, but she also had quite skilled repertoire that she brought out whenever the situation arose. I was worried, being fifteen, that she'd be used as the annoying little sister character, but no, she was awesome. I mean, she stitched up her own arm. I'd call that pretty awesome.
Crushing hard on his best friend, Percy, Monty's inner struggle to contain his feelings is just angst overflowing. With so many almost-moments that make you want to simultaneously squee and curse the book, I had a joy of a time reading this. But the interruptions—argh, there were so many of them. Still, for the time period, I was impressed with how queer-inclusive it was. The characters weren't out and proud, but there were still enough tender moments to make you want to live alongside these guys, and Felicity.
Recommendation:
If only I could have found that spark that keeps you reading until three in the morning, I would have rated this one just a bit higher, still, you should give this one a go. It's a lot of fun.