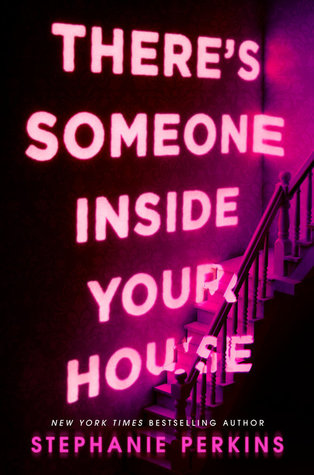 Title: There's Someone Inside Your House
Author: Stephanie Perkins
Published: September, 2017 by Dutton Books for Young Readers
Pages: 289
Rating:






Purchase: The Book Depository
Love hurts…

Makani Young thought she'd left her dark past behind her in Hawaii, settling in with her grandmother in landlocked Nebraska. She's found new friends and has even started to fall for mysterious outsider Ollie Larsson. But her past isn't far behind.

Then, one by one, the students of Osborne Hugh begin to die in a series of gruesome murders, each with increasingly grotesque flair. As the terror grows closer and her feelings for Ollie intensify, Makani is forced to confront her own dark secrets.
Final Thoughts:
I expected to love this book, but nope. Whatever magic had taken over during the Anna, Lola, Isla trilogy was missing for Makani's journey. Supposedly horror focussed, but actually romance focussed, it failed to really scare me. A lot of the background characters that you barely know get killed, but there's no real shock to it. Whenever the POV switches from the main character, you know the new POV character is about to bite it. If you're like me, and usually get freaked out by horror, you'll be fine with this. I was more annoyed by the characters putting themselves in danger than anything else. They should have just stuck to having sex in the cornfields.

Makani (unusual YA name alert—but she's from Hawaii, where it means 'wind', so we're okay with that), is the new girl, and her parents suck, so she lives with her grandma now in the middle of nowhere surrounded by cornfields and football obsessed locals. With a terrible secret that she can't tell the reader about, she spends her time hanging out with her trans friend, Darby, and his bff, Alex. As Makani pines after the pink haired, quiet boy from the grocery store that she had sex with over the summer, I learned that I was pretty much over this book.
Insert a scene with pink haired boy getting bullied, and then one of the bullies dying, Makani's friends start worrying that pink hair may be the killer. But never mind their concern, Makani's too busy macking on him again, rekindling their 'romance'. As he takes her out to the middle of the cornfields, I guess we're supposed to fear for her life (or hope that the book's almost over and the rest of the pages are blank). Alas, the book carried on giving us a 'big reveal' around the mid-way point.
I suppose it did get more interesting after that, building some tension in the town. But if you're going to go that route, at least have a twist. I felt that the rest of the book was wasted on a game of cat and mouse, killing off random characters rather than actually surprisingly the reader and making us think wow. Makani's 'terrible' secret did come out, with a chapter spent on a flashback to Hawaii. There was no real resolution to that, other than her friends comforting her, letting her know she wasn't a bad person.
Maybe it's better to think of this as a contemporary romance where everyone at school just happens to be getting murdered around her. Still, I feel like the Makani/Ollie story didn't hook me. It could have been told from Darby and Alex's POV and I probably would have enjoyed it more. There was no pull making me want to read this. I just had that need to finish it, hoping for that twist that never eventuated.
Recommended to:
Those looking for romance with a knife wielding murderer looming in the background.