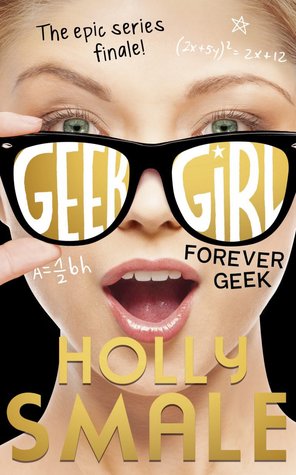 Title: Forever Geek (Geek Girl #6)
Author: Holly Smale
Published: March, 2017 by HarperCollins Children's Books
Pages: 400
Rating:






Purchase: The Book Depository
My name is Harriet Manners and I'll be a geek forever…

Harriet Manners knows almost every fact there is.

Modelling isn't a sure-fire route to popularity. Neither is making endless lists. The people you love don't expect you to transform into someone else. Statistically, you are more likely to not meet your Australian ex-boyfriend in Australia than bump into him there.

So on the trip of a lifetime Down Under Harriet's to-do lists are gone and it's Nat's time to shine! Yet with nearly-not-quite-boyfriend Jasper back home, Harriet's completely unprepared to see supermodel ex Nick. Is the fashion world about to turn ugly for GEEK GIRL?

It's time for Harriet to face the future. Time to work out where her heart lies. To learn how to let go…
Final Thoughts:
Harriet Manners has been an interesting one. It felt like these books could go on forever, but it feels good to finally have an ending. While Forever Geek was fun, I don't think it will go down as my favourite of the series. Set in Australia, Harriet's adventures predominantly involve Nat (not that the extra time with Nat is a bad thing), as the bulk of the cast were left behind in England. With the plot focussed on making Nat a success, avoiding/trying to run into Nick, and causing havoc along the way, there's a good chance fans of the series are going to eat this up.

I haven't really been Team Nick for a while now (or ever—I can't remember that far back), so Harriet's obsession with him kind of got my hackles up, especially when her behaviour came at the expense of her relationships with people that actually were present in her life. Then again, that may be my cynical side taking over, diluting the great romance they supposedly shared. Still, I appreciated the resolution to the Nick saga that the book brought with it. It felt as if Harriet would be left panicking every time an Aussie accented boy popped up for the rest of her life had this book not come to be.
I'd highly recommend reading the Paris novella before getting into this as it gets referenced a bit throughout, particularly with regards to Nat's rise to fame (or attempts at it). With the initial chunk of this one spent chasing down modelling agencies, bloggers and generally trying to create a social media following, knowing what happened in Paris makes a little bit of a difference.
There isn't a whole lot of modelling happening on this trip, but Harriet still manages to squeeze a couple of misadventures into her holiday. I found her actions humorous but there were times when I cringed at just how wrong she was behaving. It's hard because sometimes I feel like she has grown up, maturing with each problem she overcomes, but then she will do something that makes me think each narrow escape has just padded her ego even more.
It's got nothing to do with the mountains of facts she spurts—I've quite enjoyed some of those—it's more to do with her lack of empathy, seeing things only as she wants to and then causing heartache or annoyance for everyone else. I do have to remember her age—justifying her behaviour—but it's easy to expect more from her when so many other YA characters act much older than their age would suggest.
Still, this series is light, full of comedy and easy to get lost in. As a finale it did its job and closed the door on this world for me. I'm glad to have known Harriet and to have gotten a sneak peek into the world of modelling just as she did.
Recommended to:
Those who've already read the rest of the Geek Girl series.