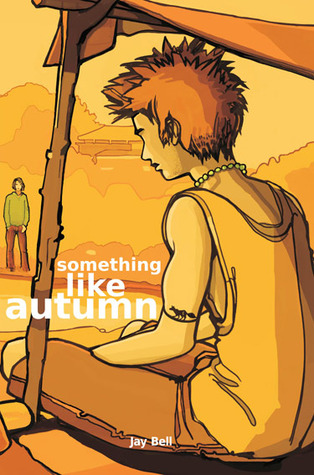 Title: Something Like Autumn (Something Like #3)
Author: Jay Bell
Published: May, 2013 by Jay Bell Books
Pages: 368
Rating:






Purchase: The Book Depository
Love can appear unexpectedly: a chance meeting at a friend's wedding, the arrival of a handsome new co-worker… or while being robbed at a convenience store.

For some, love seems an impossible dream. Growing up gay in small-town Missouri, Jace Holden thought his chance would never come. When he meets Victor—a wild soul and fellow outsider—his chances of finding love go from bleak to a very uncertain maybe. Bracing his heart, Jace chases after his desire, hoping for a warm hand to hold his tight.
Final Thoughts:
Finally, Jace's story. I wanted this book to go on forever, which is probably why it took me so long to finish. Being a companion novel and knowing I was in store for an unhappy ending kept me from racing towards the end, but even with that preparation, I still broke down in tears trying to finish that final page. While it is an emotionally draining book, it's also a refreshing one. In fact, I found myself enjoying this a lot more than I did either Ben or Tim's stories. Getting to know Jace as a teenager was a treat. It really opened my eyes to all that went into shaping the boy that went on to become the wonderful man we saw in Ben's book. Starting out at a thankfully-botched suicide attempt, we get to meet Jace's loving family, including his amazingly supportive best friend, who happens to be male, and straight (I know–there needs to be more of this), as well as his older boss/friend, Bernard. And Victor, I couldn't forget Jace's first love.

Despite never having experienced the majority of what these characters did, it managed to feel completely relatable. Even with the introduction of Victor, a boy choosing to be homeless, gave Jace's backstory so much depth. I'm constantly surprised by how different the characters are. Each guy brings with him a different story, one you wouldn't expect to find. Victor's a charmer, but in a free spirited way. He rejects the constraints of society, choosing to live outdoors, trying to survive on his own. Bringing a distinct worldview, his presence left a lasting impression on Jace, affecting his actions later on in his life, which I appreciated. It helped make sense of the selfless person Jace seemed to be while reading the previous book. Still, there were times when I thought he let too much slide between Tim and Ben, reinforcing my dislike for Tim. This book certainly does that guy no favours.
Ben, Ben, Ben. I loved him in his book, but here, seeing things from Jace's side, I wanted to throttle him occasionally and remind him of what a wonderful man he had in his life. Screw Tim's advances, and stick with your boyfriend. But in saying that, it's not all infidelity—they really did come across as a couple you could cheer for. Then again, I cheered for Jace and Victor too. I loved that we managed to get two great romances within the one book. It really did justice to Jace. Being my favourite book in the series thus far, I'm really curious as to how the fourth instalment will shake things up. Ben, Tim and Jace have all had their say, and I can't wait to see who comes next.